Lead: Dr. loriEn nesbitt, forest resources management
OVERVIEW
This project will pilot a system to enhance natural asset management for the benefit of the UBC population. It will develop A) a sensor and UAV network platform, interfaced through the 5G network, for data collection and processing related to monitoring natural assets; B) an experienced and highly interdisciplinary team, able to tackle complex environment-related problems and formulate efficient solutions for the integration of natural assets within the context and opportunities offered by present technologies (enhanced by the dense 5G network); and C) an intelligent data acquisition and processing chain, to discover relevant patterns for assessing the status and dynamics of natural assets, including their social values.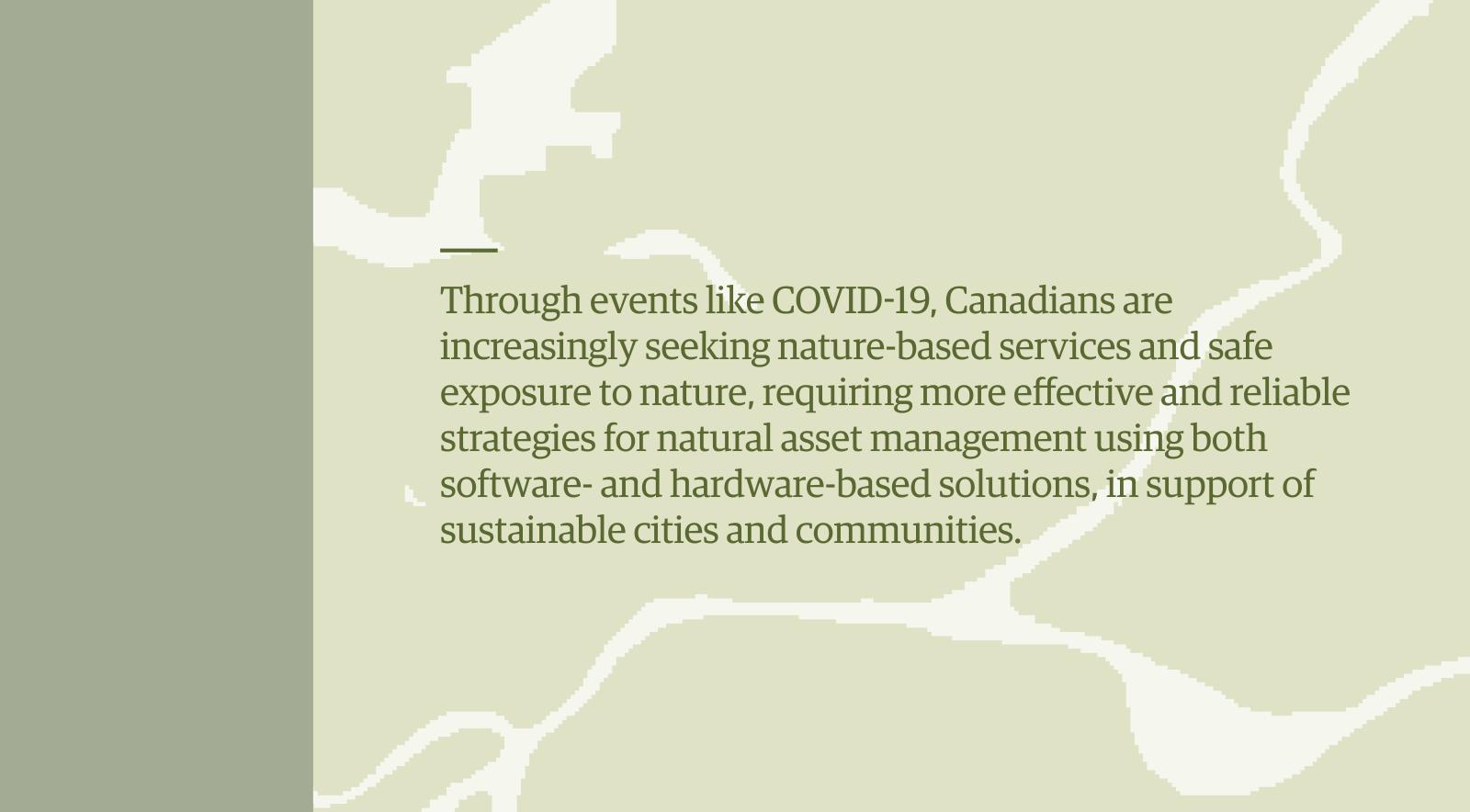 The project aligns a set of short-term targets, achievable within the one-year framework, with a wider perspective built on three connected goals that expand and develop beyond the first year of activity:
Collect data on campus natural assets (e.g. trees, soils, and associated vegetation) to elicit information about key characteristics, general condition, and response to environmental variables.

Collect mobile and survey-based data on people who use campus natural assets, providing insight on behaviour, movement patterns, preferences, and accessibility barriers in relation to asset conditions and characteristics.

Draw data linkages between information collected on natural assets and usage to inform decision making and asset management into the future, and identify pathways for natural-asset-focused 5G technologies, based on data collection, analyses, and validation.
With the dual challenge facing Canadian municipalities of declining infrastructure quality and threatened ecosystems, UBC is poised to make substantive contributions to sustainability and natural asset management, both on campus and in the wider natural asset management community.
The development of this specific hardware architecture (e.g. sensors) and datasets (e.g. human movement and behaviour) will not only advance data and software systems at UBC to leverage 5G data in the development of natural asset planning, but will also pave the way for innovative ecosystem management strategies across Canada.