Leads: Dr. Naoko Ellis, Chemical & Biological Engineering & James Montgomery, Energy & Water Services
OVERVIEW
The project will advance the strategic priority area of Climate Action through education and research focused on GHG emissions reductions. The project will also advance UBC's research excellence by connecting a collaborative cluster of Carbon Capture & Conversion (CCC) researchers with local governments in the region (e.g. Metro Vancouver) and Small-Medium Enterprises (e.g. CleanO2) developing CCC technology to enhance knowledge exchange.
Through these demonstration projects, UBC operations, researchers and technology providers will work together on capacity building in the CCC industry in order to address emission reductions on the campus scale.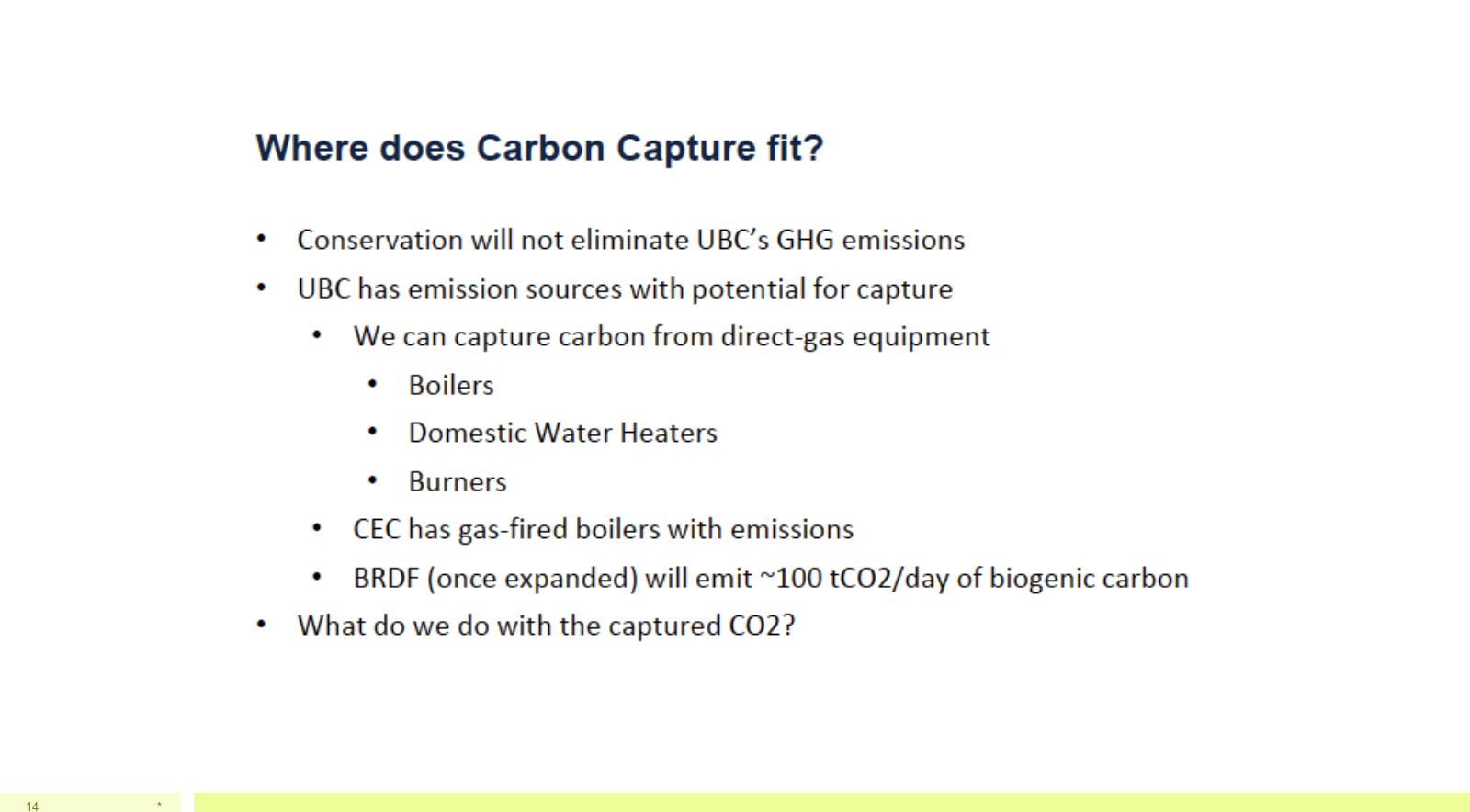 The project is divided into four objectives each having assigned leads:
Invitation for Dialogue - connecting UBC research & operations to SMEs:

There is currently limited demonstration of successful CCC projects at a scale relevant to UBC, though a number of SMEs are working to develop the technology. We will connect Canadian SMEs in this area with UBC Research and Operations to expand the dialogue around CCC in the context of campus operations. This will allow for collaboration between UBC researchers and SMEs, as well as the use of UBC infrastructure for pilot CCC installations.

Connecting with Broader Landscape: While this proposal focuses on assessing CCC technologies for implementation on UBC campus, it also promotes partnerships and collaboration within the Metro Vancouver region in areas that can advance clean energy and carbon neutral goals. Metro Vancouver is interested in exploring CCC technologies for applications in the region. Dialogue between UBC researchers and Metro Vancouver will enable identification of research opportunities to advance the technologies targeted for GHG emissions reductions in the region.

Building Student Capacity in CCC: Mobilizing student interests can lead to significant change in the way we operate on campus. Under this objective, we will align with and connect with key climate-related initiatives involving students.

On-campus Small Demonstration Projects: Implementing pilot scale projects will allow for successful proof of concept for SMEs while also facilitating further research activities in the field. It will also allow for exploration of the existing regulatory hurdles facing an industry interfacing with natural gas equipment and the associated regulatory bodies that have not yet developed guidelines for CCC installations in BC.
This project pivots on building an ecosystem around GHG emissions reduction through carbon capture and conversion demonstrated on campus. The combination of expertise provided by researchers, enthusiasm and curiosity of students, Canadian SME CCC technology and commitment by the regional government will establish a unique opportunity for further collaboration and innovation. As a result, this project at UBC will showcase how a successful living lab project can lead the way towards a low carbon future.