UBC places sustainability at the heart of teaching, learning and research, operations and infrastructure, and community. Our strategic plans and policies guide us, while our annual reports and external benchmarks provide an opportunity to share success, measure progress, and highlight our ongoing commitments.
REPORTS
Sustainability DASHBOARDS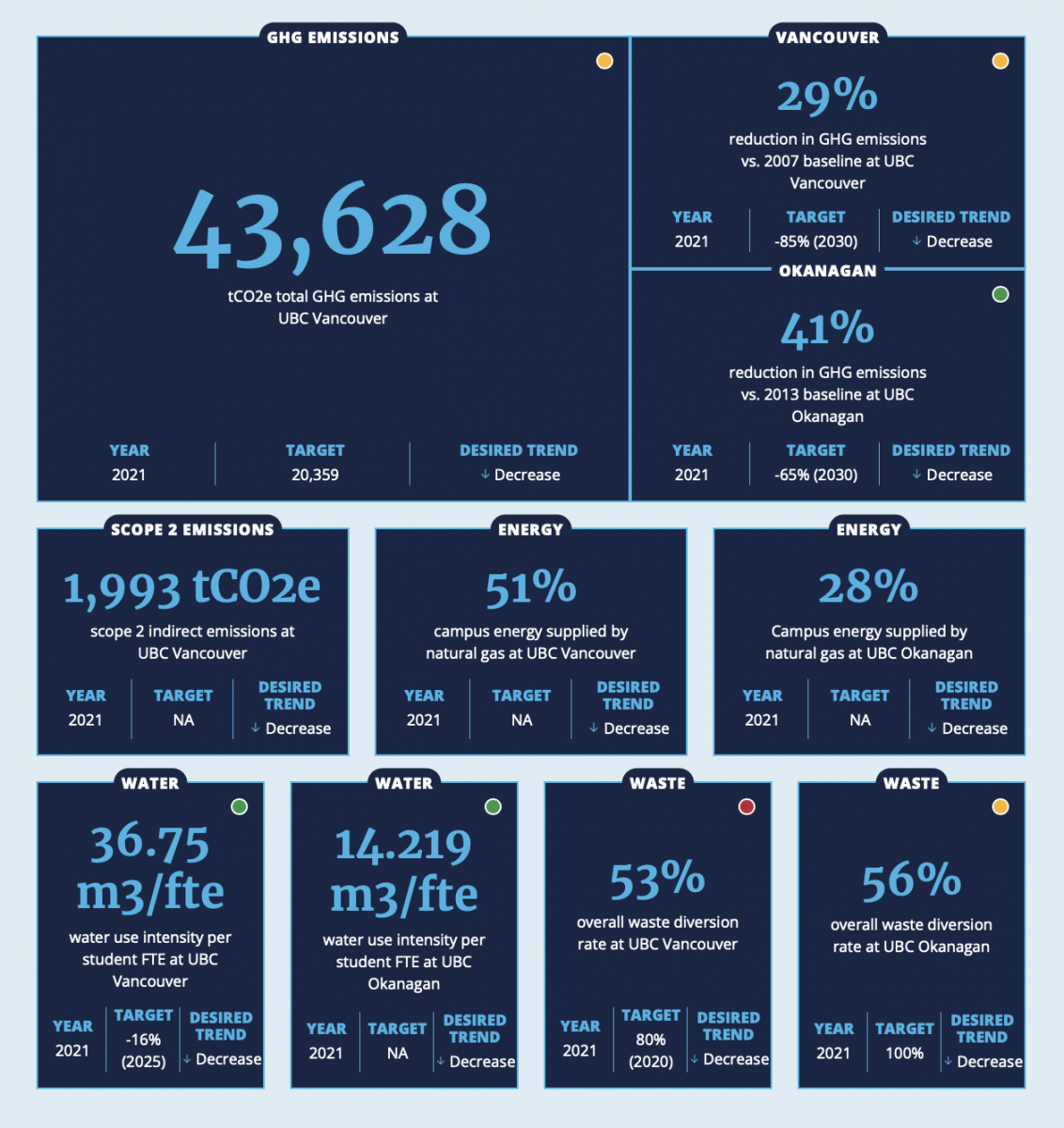 Open access to UBC's latest sustainability performance across our academic, operational, and community-focused areas of work. Explore visualizations, and download the latest open data for further research and learning.
Annual Sustainability Reports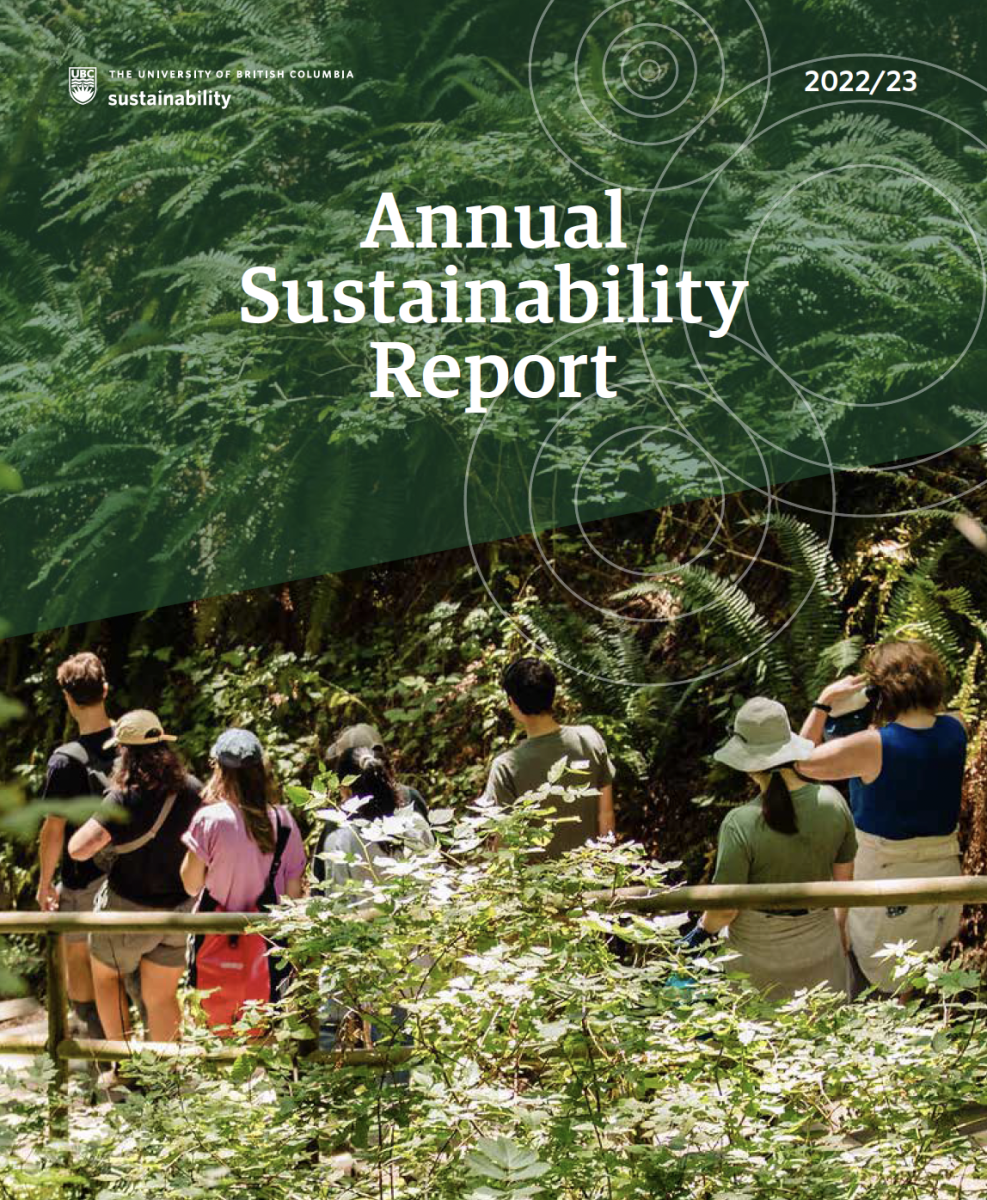 Our Annual Sustainability Reports provide an overview of sustainability activities and highlight achievements at UBC's Vancouver and Okanagan campuses.
2022/23 Report Download
Climate Emergency at UBC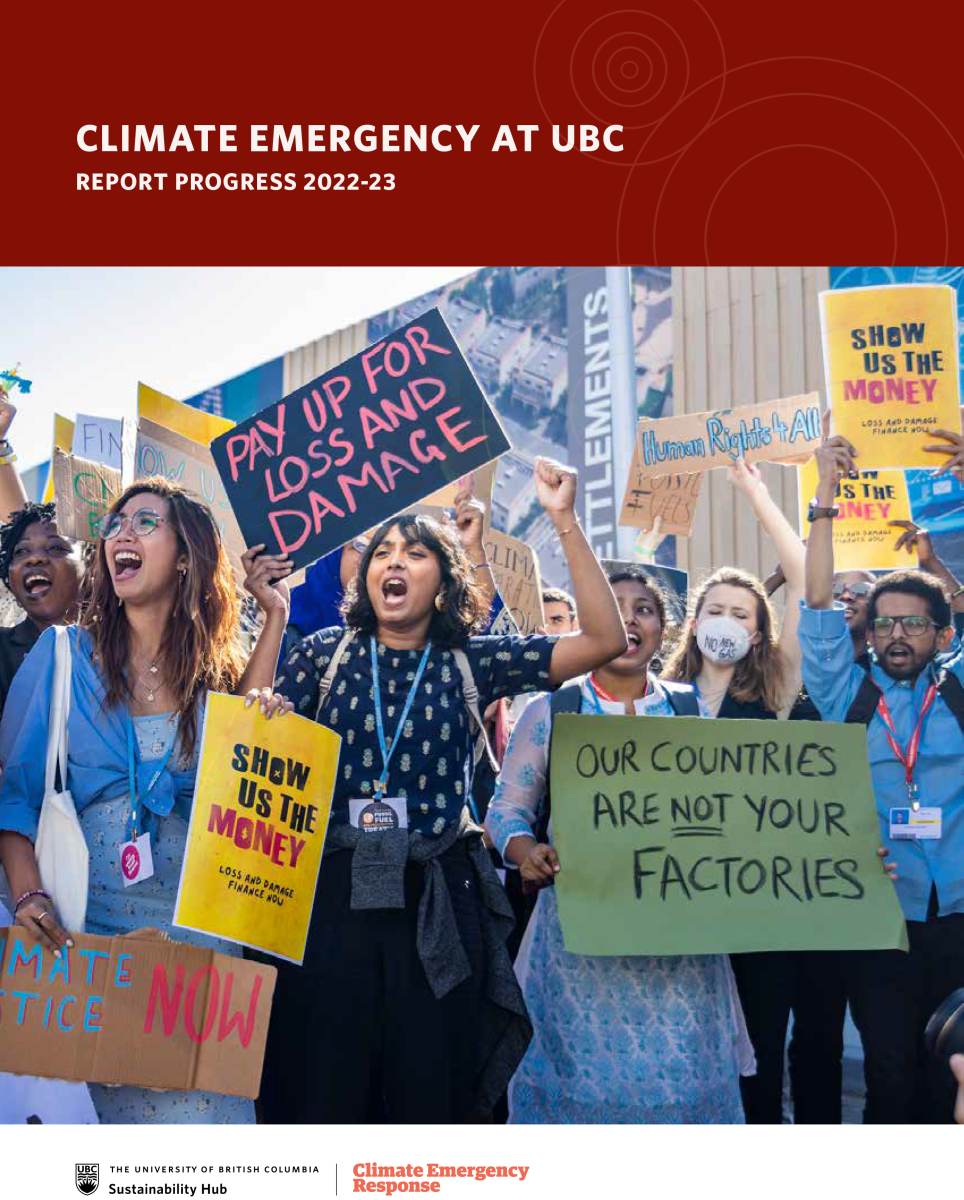 Progress reviews on the climate emergency at UBC since the Board of Governors and Senates unanimously endorsed in principle the Climate Emergency Task Force (CETF) report in early 2021.
2022/23 Report on Progress Download
2021/22 Executive Summary Download
2021/22 Report on Progress Download
---
In 2018, the Canadian government formally endorsed the adoption of Task Force on Climate-Related Financial Disclosures recommendations by all Canadian organizations to support Canada's commitment to the Paris Agreement.
UBC endorses the adoption of TCFD recommendations and is committed to producing annual TCFD disclosures alongside supporting TCFD's global mission of market transparency.
FY2022 Task Force on Climate-Related Financial Disclosures Report Download
---
UBC's Climate Change Accountability Reports (formerly Carbon Neutral Action Reports) are required under the province's carbon neutral regulation. The reports track UBC's actions and progress towards carbon neutrality, and our achievements toward the goals of UBC's Climate Action Plan.
2022 CCAR Report Download
---
GHG Inventories (2006 - present)
Inventories for our Vancouver campus emissions have been completed each year since 2006.
2022 GHG Inventory Download
---
Transportation Status Reports
Transportation Status Reports provide a comprehensive review of UBC transportation patterns and trends over time.
2019 Transportation Status Report Download
---
Together|Ensemble at UBC – Advancing the SDGs in British Columbia
UBC faculty, students, staff, community members, and organizations across BC joined for Together|Ensemble at UBC to discuss and explore key cross-cutting themes relating to decolonization, climate, justice, education, and a just transition.
2023 Together|Ensemble at UBC Download
SUSTAINABILITY PLANS
Shaping UBC's Next Century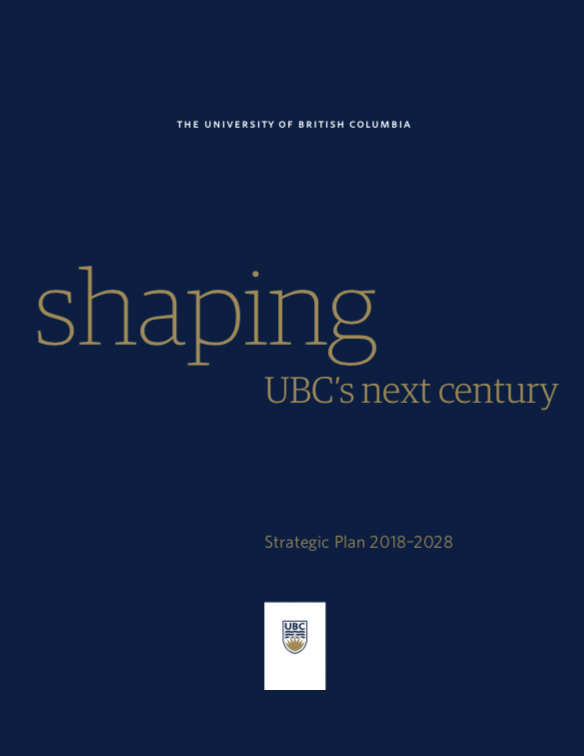 UBC's strategic plan represents a roadmap. It sets out our collective vision, purpose, goals and strategies for the years ahead. It guides our decisions and actions - inspiring the very best in our students, faculty, staff, alumni and partners. And it challenges us to lead globally and locally in in sustainability and wellbeing across our campus and communities.
---
SUSTAINABILITY HUB STRATEGIC PLAN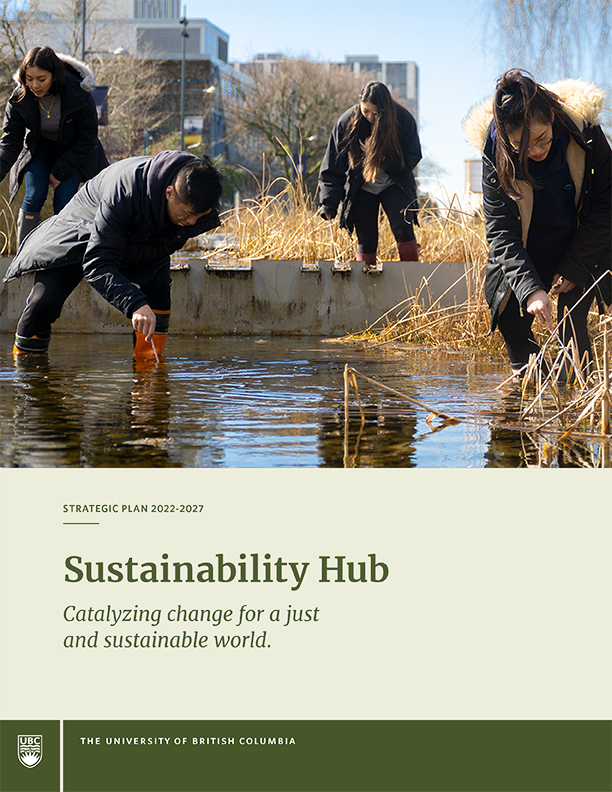 The UBC Sustainability Initiative was created in 2009, and renamed Sustainability Hub in 2022.
This name reflects a stronger emphasis on engagement, and a goal to catalyse change for a just and sustainable world. A five-year strategic plan outlines how the Hub will activate a mission of, "Inspiring people to act upon the planet's most urgent challenges through UBC's academic and operational sustainability leadership".
---
20-year Sustainability Strategy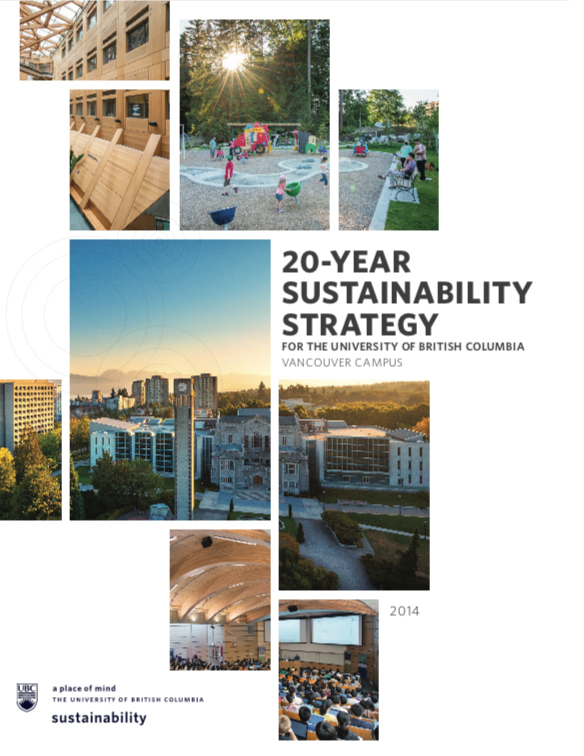 The 20-year Sustainability Strategy for UBC's Vancouver campus provides a long-term strategic direction for sustainability across teaching, learning and research, operations and infrastructure and the community.
---
UBC Okanagan Whole Systems Infrastructure Plan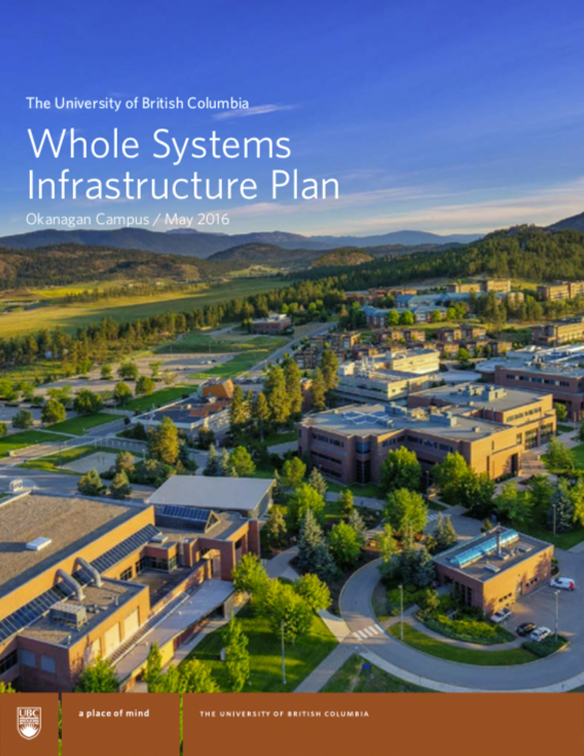 UBC Okanagan's Whole Systems Infrastructure Plan provides a long-term roadmap, proposed performance metrics, and a five-year implementation plan, to guide future planning, investment and management in a manner that will support sustainable development, community wellbeing and ecological resilience.
---
CAMPUS LAND USE PlanS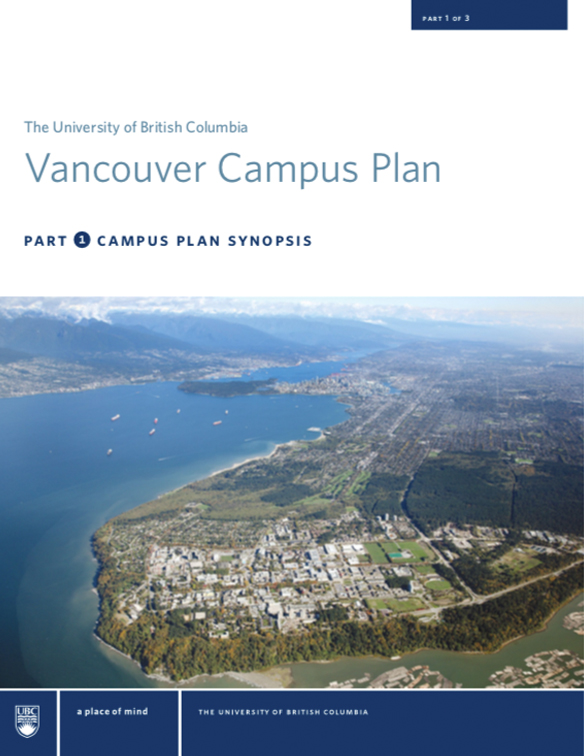 Campus land use planning sets long‐term objectives and goals for the development of the campus to meet the interests of the university, our community and the environment.
---
Climate Action Plan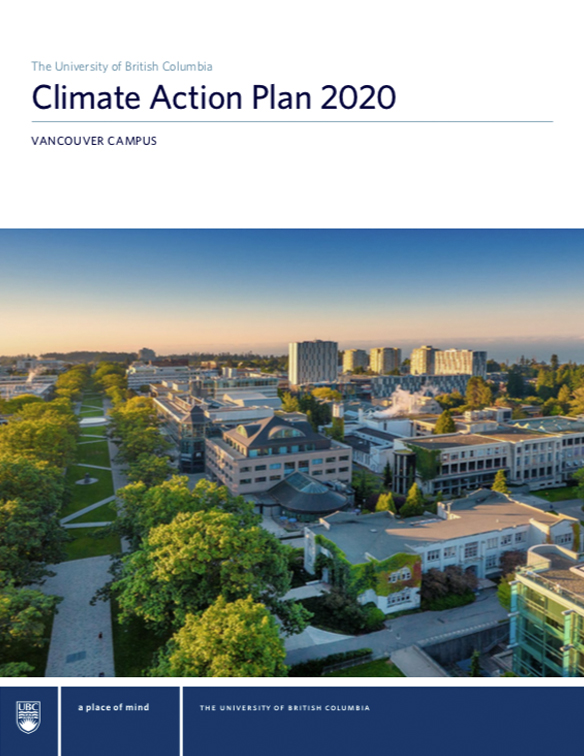 The UBC Climate Action Plan identifies UBC's aggressive greenhouse gas emissions reduction targets and strategies, to guide the Vancouver campus in its ongoing transition toward a low carbon future.
---
Zero Waste Action Plan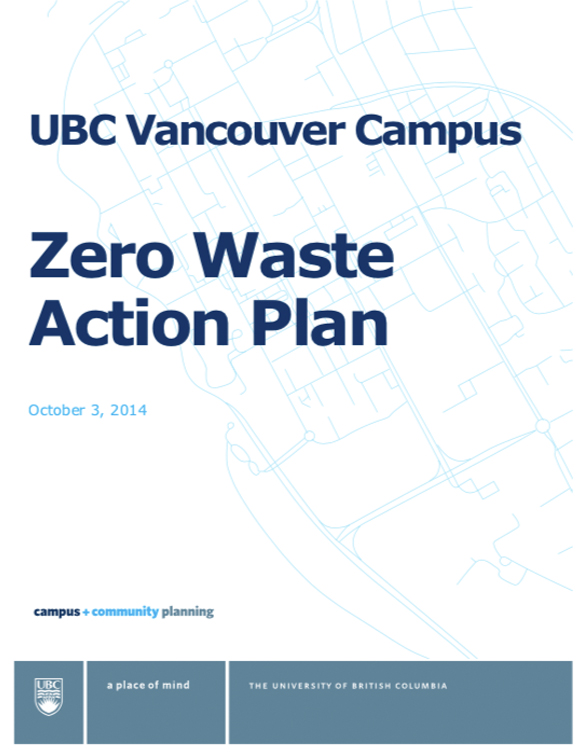 UBC, in collaboration with the University Neighbourhoods Association, has developed a comprehensive Zero Waste Action Plan.The plan outlines UBC's targets to reach new milestones in waste reduction and management, and the actions required to meet those targets.
---
UBC Vancouver Child Care Expansion Plan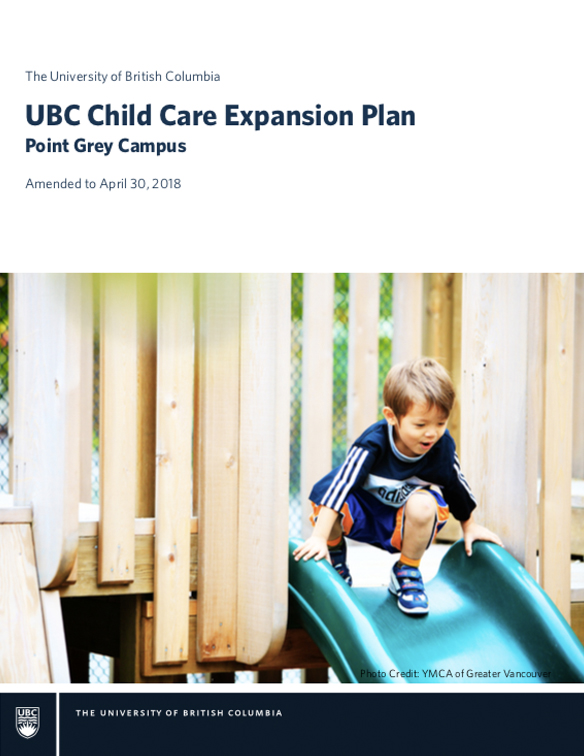 UBC is committed to expanding child care on campus as the campus community grows. In 2009, the UBC Child Care Expansion Plan was approved by UBC's Board of Governors to guide the planning, development and operations of child care on campus for both academic and neighbourhood lands based on the anticipated growth of the community.
---
Transportation Plan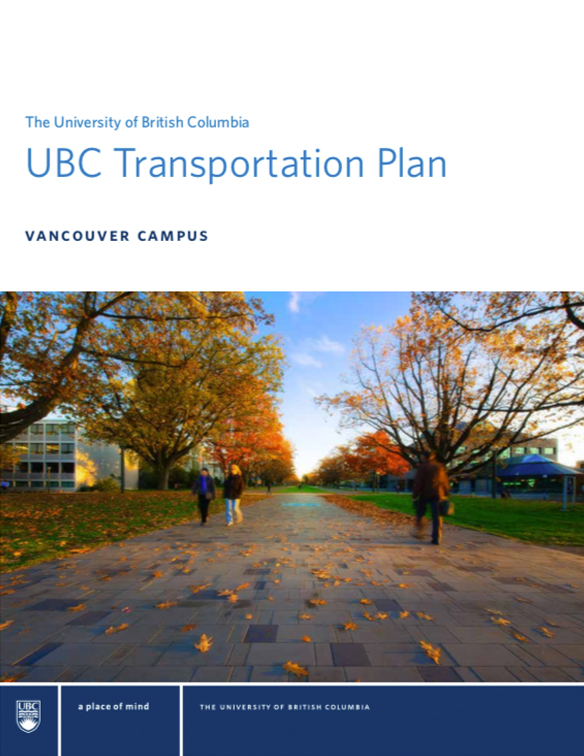 UBC's Transportation Plan provides guidelines and recommendations for managing changes to UBC's transportation systems, proposes solutions to many campus transportation issues, and includes strategies for implementing important changes in how we travel to, from and around campus.
---
UBC Wellbeing and the Okanagan Charter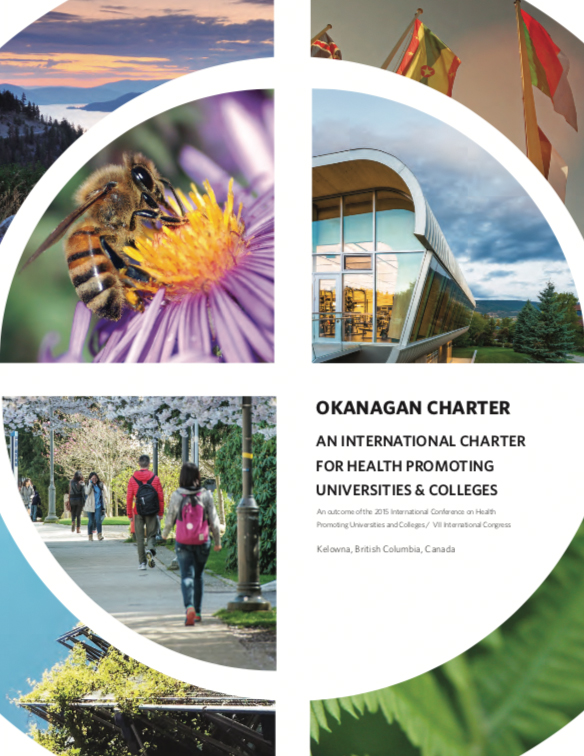 UBC Wellbeing is guided by the Okanagan Charter, a shared call to action for partners, leaders, and community members to make UBC a leading wellbeing-promoting university.
---
Sustainability Academic Strategy (2009)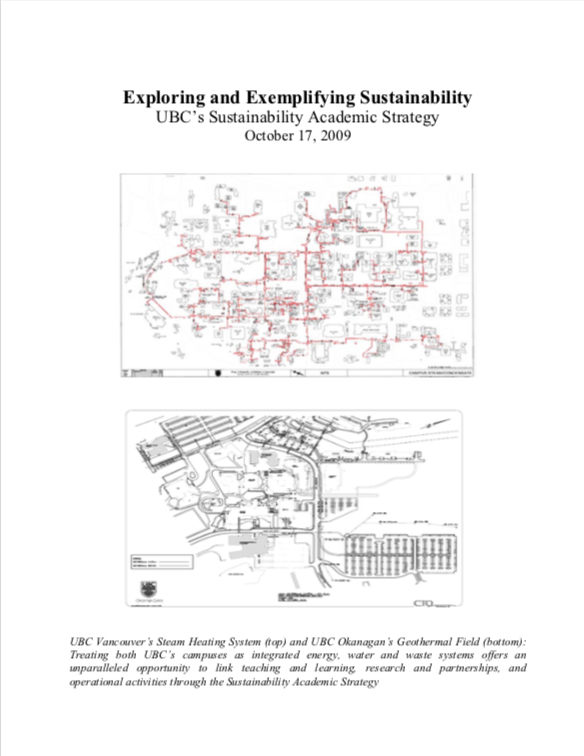 Created through a collaborative process to inform the UBC strategic planning process, this document provided recommendations around specific academic themes to guide the work of the UBC Sustainability Initiative.
---
Inspirations and Aspirations: UBC Sustainability Strategy 2006-2010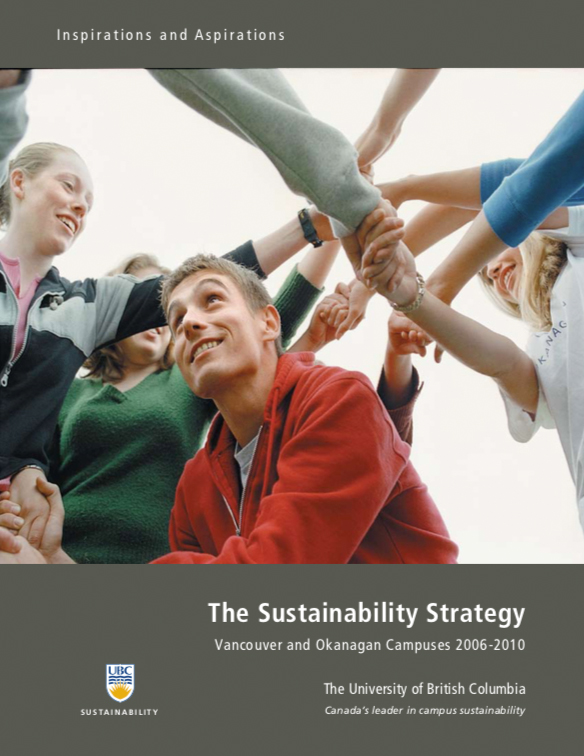 UBC's first sustainability strategy, produced in consultation with over 20 UBC departments, all 12 faculties and all major student organization at UBC Vancouver. The strategy provided a framework and identified major the first goals, objectives and targets for sustainability at UBC.
---
EXTERNAL BENCHMARKS
UBC's leadership in sustainability is consistently recognized with top marks in third-party rating systems.
Sustainability Tracking, Assessment & Rating System (STARS)
In 2015, UBC achieved our second consecutive Gold rating in the Sustainability Tracking, Assessment & Rating System (STARS), a comprehensive sustainability rating system for higher education institutions administered by the Association for the Advancement of Sustainability in Higher Education (AASHE).
STARS is a voluntary, self-reporting framework which allows us to report our sustainability focused activities and performance against a set of common measurements. Credit for sustainability may be earned in five categories: Academics; Engagement; Operations; Planning & Administration; and Innovation. In 2011, UBC was Canada's first university to achieve a Gold STARS rating.
International Sustainable Campus Network (ISCN)
In 2012, UBC was the first Canadian institution to sign the ISCN-GULF Sustainable Campus Charter. The ISCN provides a global forum to support leading colleges, universities, and corporate campuses in the exchange of information, ideas, and best practices for achieving sustainable campus operations and integrating sustainability in research and teaching. As part of our signatory requirements, UBC submits annual reports to the ISCN on our sustainability achievements and performance.
POLICIES
In 1997, UBC became Canada's first university to adopt a Sustainability Policy, and a year later became Canada's first university to establish a Campus Sustainability Office.
Our sustainability policies span sustainable development, energy, grounds, waste and more and provide the basis for sustainable practices on campus.
For a full list of UBC policies, please refer to the Office of the University Counsel website.