UBC Food Services
UBC Food Services is committed to becoming a leader in food sustainability on campus and in the wider community. Food Services provide a diverse selection of fresh, delicious, and memorable food experiences in a socially and ecologically conscious manner. In fact, more than 60% of their ingredients are purchased from local producers (within 400km of UBC) like the UBC Farm.
If you've purchased your meal on campus lately, you may have come across a label indicating whether what you are about to consume is climate-friendly. The Climate-Friendly Food Label has been tested and is at select food outlets across UBC campus. The label provides an opportunity for the campus community to make informed purchasing decisions that can promote a climate-friendly food system.
Read more about UBC Food Services' sustainability initiatives and reusable mug discount.
60%
of UBC Food Services ingredients are purchased from local producers (within 400km of UBC)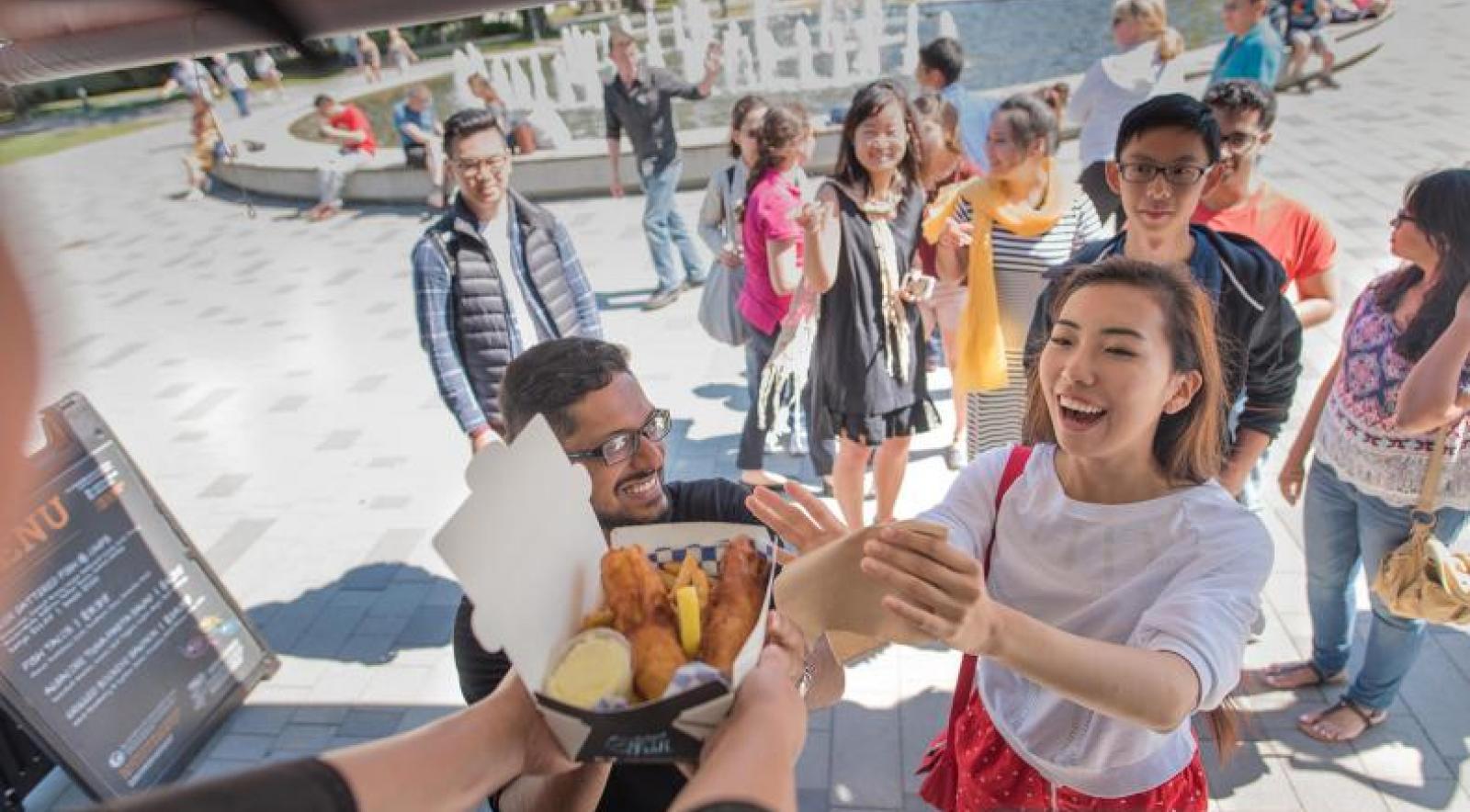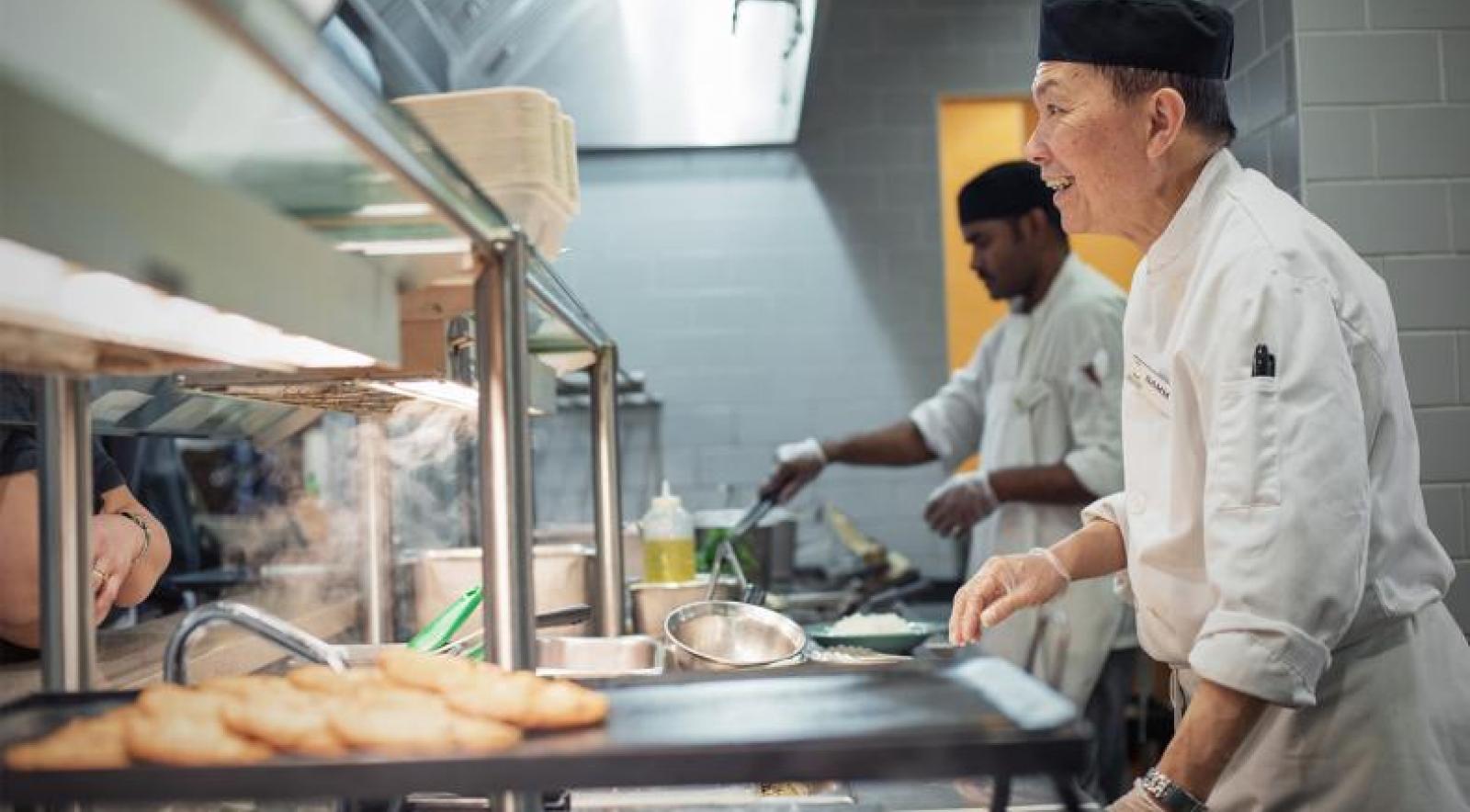 AMS Food and Beverage Outlets
The AMS Food and Beverage Department is committed to providing healthy and sustainable food on campus. They support applied learning on food-related issues, reducing waste, and encouraging positive change through staff training, menu design, and various community events.
Learn about the food options located in the AMS Nest.
Sprouts Cafe
Sprouts is a 100% volunteer and student-run organization. Through many initiatives, Sprouts endeavors to make healthy, affordable, and sustainably produced food accessible to everyone on campus.
Find Sprouts in the UBC Life Building (lower level) | 6138 Student Union Blvd.
Seedlings Eatery
Seedlings specializes in raw, vegan, and healthy vegetarian cuisine all of which is organic, locally sourced whenever feasible, and fair-trade whenever applicable.
Visit Seedlings Eatery at Thea Koerner House | 6371 Crescent Road
Agora Café
Agora Café is a student volunteer-run, non-for-profit café located in the Faculty of Land and Food Systems. Agora Café provides affordable, accessible, healthy, local and organic food choices for students, staff and faculty members while training volunteers in food service and business management.
Find Agora Café in the H.R. Macmillan Building (lower level) | 2357 Main Mall
---
WHERE TO BUY
UBC Farm Markets
The UBC Farm offers two weekly markets from early June through mid-October. The Saturday Farm Market features farm-fresh veggies, fruits, herbs, flowers and free-range eggs from the UBC Farm, prepared foods and a variety of other local growers, bakers, craftspeople, and live musicians.
The Wednesday Campus Market features an assortment of fresh UBC Farm produce, providing students, staff and faculty members a convenient opportunity to purchase UBC Farm food on campus.
Find out more about UBC Farm Markets.
Community Supported Agriculture
Love healthy, local, organic food grown on campus? The UBC Farm Community Supported Agriculture program provides members of the UBC campus and broader community with a weekly box of fresh, healthy, local, organic produce grown at the UBC Farm.
Learn more about Community Supported Agriculture at UBC.