UBC students are leading change across our campus, and in our communities. By self-organizing and speaking out, student groups take the initiative to spark meaningful conversations – often about what UBC itself can do differently. Addressing issues like the climate crisis, social and racial justice, student wellness and more, student leaders at UBC are committed to making a positive contribution to sustainability
24
STUDENT-LED GROUPS PARTICIPATED IN THE STUDENT SUSTAINABILITY COUNCIL
40+
CLIMATE STORY-TELLING WORKSHOPS IN HIGH SCHOOLS BY UBC CLIMATE HUB
4,000+
TOOK PART IN STUDENT-LED UBC CLIMATE STRIKE
50+
SUSTAINABILITY-RELATED STUDENTS
key achievements
UBC Climate Strike attended by 4,000+
Students from UBCC350, the Social Justice Centre, and the Climate Hub organized a climate strike to galvanize support for divestment and the declaration of a climate emergency. Dozens of departments made statements of support, over 70 student groups signed an open letter, along with 1600+ individual signatures.
UBC's Climate Emergency Response
This year UBC declared a climate emergency, driven by the leadership of our students. An independent Climate Emergency Task Force was convened with representation from faculty, staff and students across both campuses responsible for drafting recommendations on how to advance UBC's Climate Emergency commitments.
Climate Hub storytelling workshops
This year the Climate Hub's hybrid student-staff model actively supported the development of UBC's Climate Emergency Response, and launched other new initiatives including the Youth Climate Ambassador Project to deliver climate storytelling workshops to hundreds of high school students.
Student Sustainability Council input on UBC plans
This year the Student Sustainability Council included representatives from 24 student-led organizations. The Council offered feedback and suggestions to seven staff, faculty and student-led projects including the Zero Waste Food Ware Strategy, Gender and Health Course Curriculum.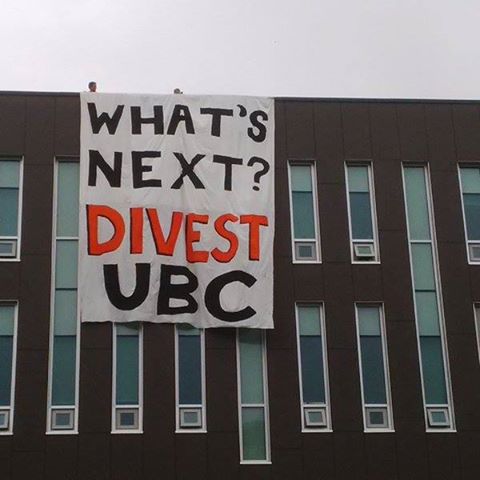 UBCC350 led successful call for divestment across UBC endowment portfolio
UBCC350 (now Climate Justice UBC) is a student-led political climate action group that aims to use the power of collective action to promote climate justice.
The divestment campaign was started by students from UBCC350 in 2013. Via AMS referendums, 77% of UBC students voted yes to UBC immediately forgoing further investments in fossil fuel companies, supported by 62% of UBC faculty. In 2016, in response to a UBC350 proposal, UBC created a $10 million fossil-free "Sustainable Future Fund".
UBC350 continued campaigning for full divestment, and in December 2019 the UBC Board of Governors unanimously passed a resolution supporting full divestment of the $1.71 billion Main Endowment Fund from the fossil fuel industry.
"The recent achievements we have seen on the climate front at UBC - divestment, the declaration of a climate emergency, the creation of the student-led Climate Hub – are all thanks to students organizing and speaking up. When students come together and organize for a cause we believe in, we have enormous power, much more than we might think. Never underestimate the power of a student movement." — Michelle Marcus, UBC350.