Our behavioural change programs engage students, staff, and faculty to learn about green practices and contribute to achieving UBC's sustainability goals. This year we continued to focus on highimpact areas and opportunities, including research laboratories, student residences, and workplace engagement to advance resource conservation and sustainability leadership.
42
OPERATIONAL AND ACADEMIC DEPARTMENTS ENGAGED (VANCOUVER)
57,488
KM CYCLED DURING BIKE TO WORK WEEK SAVING 12,000+ KG GHG EMISSIONS (VANCOUVER + OKANAGAN)
40,000
PEOPLE ENGAGED BY THE ZERO WASTE SQUAD (VANCOUVER)
48%
INCREASE IN REUSABLE FOODWARE USE (OKANAGAN)
key achievements
Engagement with over 8,000 UBC employees (Vancouver)
This year we launched a new Sustainability Leadership Training course, training 60+ employees on how to foster more sustainable behaviours in the workplace. In addition, ongoing projects, campaigns, and recognition for sustainability efforts in offices, laboratories, and residences included:
Our Green Labs program was recognized with an international award for efforts in promoting sustainable procurement
100 Ultra low temperature freezers were recalibrated through our 'Chill Up Challenge', saving annual energy equivalent of 20 houses
Four major student residences participated in the Shorter Showers energy and water conservation campaign
Eight projects funded through the Workplace Sustainability Fund and Green Labs grants
$5,000 per year savings from Shut the Sash energy campaign in Chemistry buildings
20 Years of Sustainability Coordinators (Vancouver)
UBC's Sustainability Coordinator Program celebrated its 20th year of building sustainability leadership and fostering change on campus. This year over 120 Sustainability Coordinators participated from 42 departments.
The Power of You (Okanagan)
The Power of You is UBC Okanagan's signature conservation and awareness behaviour change program. Results this year include:
36% waste diversion rate
48% increase in reusable foodware use
40% increase in sustainability pledges collected
40% reduction in hot water use at Nicola residence building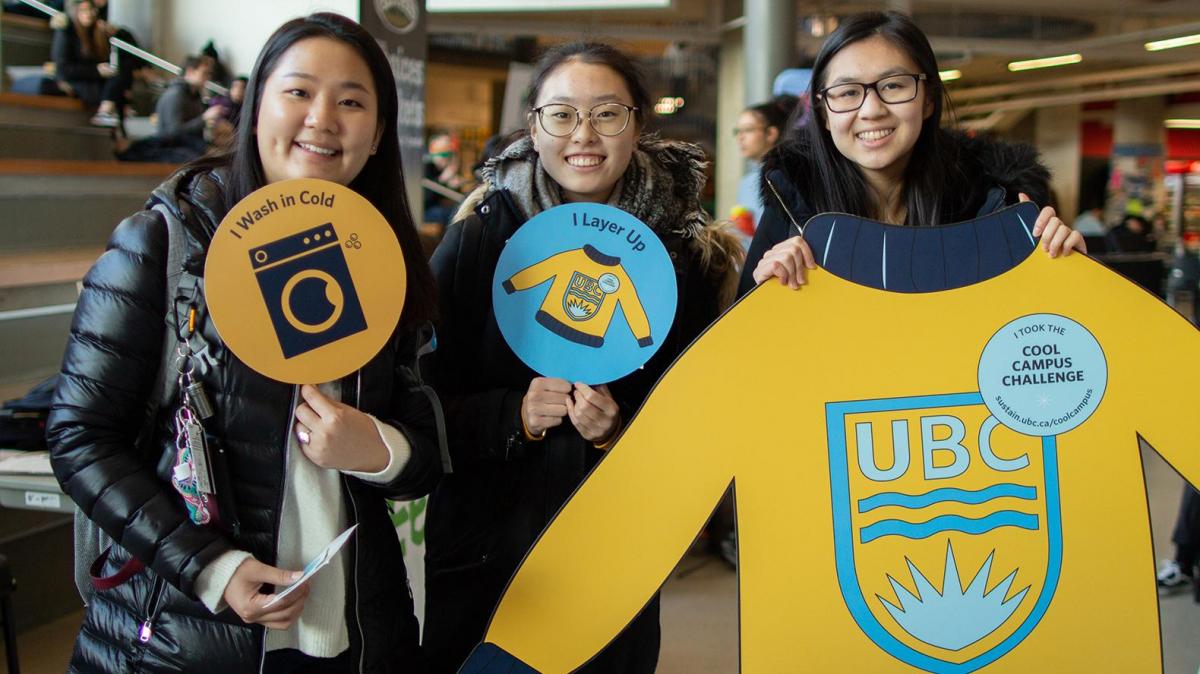 UBC leads Cool Campus Challenge
This winter, UBC Vancouver and Okanagan campuses co-led the BC Cool Campus Challenge – a fun and friendly initiative between universities and colleges across the province to save energy and reduce greenhouse gas emissions. UBC worked to turn down temperatures in campus buildings and encourage energy conservation behaviours to reduce natural gas consumption during peak heating season. In total, over 1,000 UBC campus community members participated in the challenge and signed the pledge.
Green Labs Botany Energy Savings Pilot
Growth chambers, commonly used in plant research, are very energy intensive. Leveraging a grant received through the Green Labs Fund, the Department of Botany piloted and measured energy savings by switching to more energy efficient LED lighting in plant growth chambers. Proving viable, the pilot demonstrated the potential to save up to 54,000 kWh/year in electricity if expanded across the department.