All UBC students can integrate sustainability into their learning experience and have their say on UBC's sustainability priorities. Our co-curricular engagement programs offer unique ways for students to develop leadership skills and empower peer-led networks of sustainability champions. As a result, students have multiple opportunities to participate in transformative and experiential learning.
26
STUDENT-LED GROUPS PARTICIPATED IN STUDENT SUSTAINABILITY COUNCIL
126
STUDENTS JOINED THE STUDENT SUSTAINABILITY NETWORK
400+
ATTENDEES AT THE DAVID SUZUKI CLIMATE CRISIS EVENT
8,000+
ONLINE VIEWS OF UBC READS SUSTAINABILITY TALKS
key achievements
Student Sustainability Council advised key UBC plans, projects
The Student Sustainability Council comprises representatives from various sustainability-related student groups at UBC. This year, 26 student groups provided feedback and input on eight staff and student-led projects including the AMS Student Driven Sustainability Strategy, the Stadium Neighbourhood Plan, and the UBC Wellbeing Strategy.
Student Sustainability Network added 126 new members
Members of the Student Sustainability Network develop their leadership skills by volunteering at sustainability events throughout the year. This year, we welcomed 126 new members and supported over 116 engagement opportunities.
UBC Reads Sustainability drew regional and global names
This year our speaker series hosted leading BC authors and partnered with UBC Connects to host international author Michael Pollan.
Sarah Cox: Breaching the Peace: The Site C Dam and a Valley's Stand Against Big Hydro
Johanna Wagstaffe: Fault Lines Understanding the Power of Earthquakes
Michael Pollan: How to Change Your Mind
Supported over 20 student groups
This year, the UBC Sustainability Initiative supported over 40 individual students and 20 student groups to develop projects and events including the AMS Student Union Development conference, the UBC Climate Hub, and more.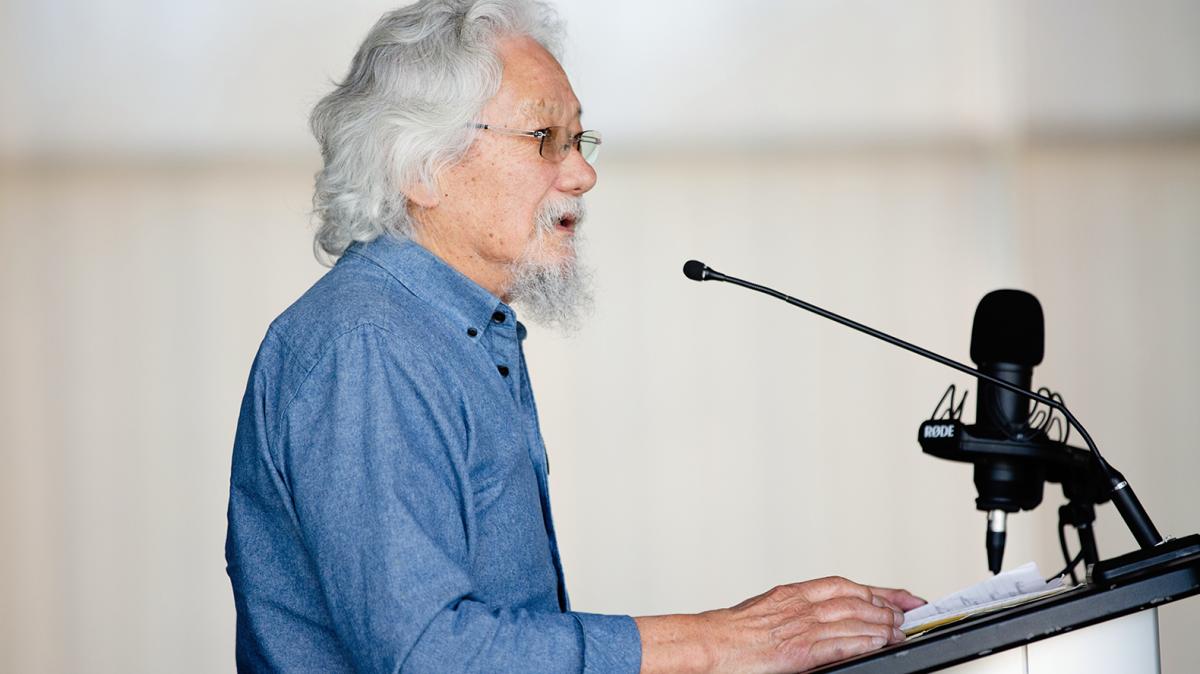 Hope in the Climate Crisis: Transitioning Our World
This intergenerational, interdisciplinary event featuring academics from a variety of different backgrounds and perspectives highlighted the breadth and depth of UBC's climate leadership.
Organized by the Sustainability Ambassadors, Hope in the Climate Crisis: Transitioning Our World showcased a range of research and leadership activities on sustainability taking place in the UBC community.
The event provided opportunities for leaders in sustainability across multiple disciplines to share current research, stories and insights in their respective fields, and engage a broad group of UBC students in climate change discourse. It was a unique opportunity to learn from UBC professor emeritus David Suzuki and four current UBC academics: Daniel Pauly, William Rees, Janet Bulkan, and Jiaying Zhai.
The discussion aimed to move the conversation away from despair to hope and action. Over 400 student, staff, faculty, and community members attended the event.