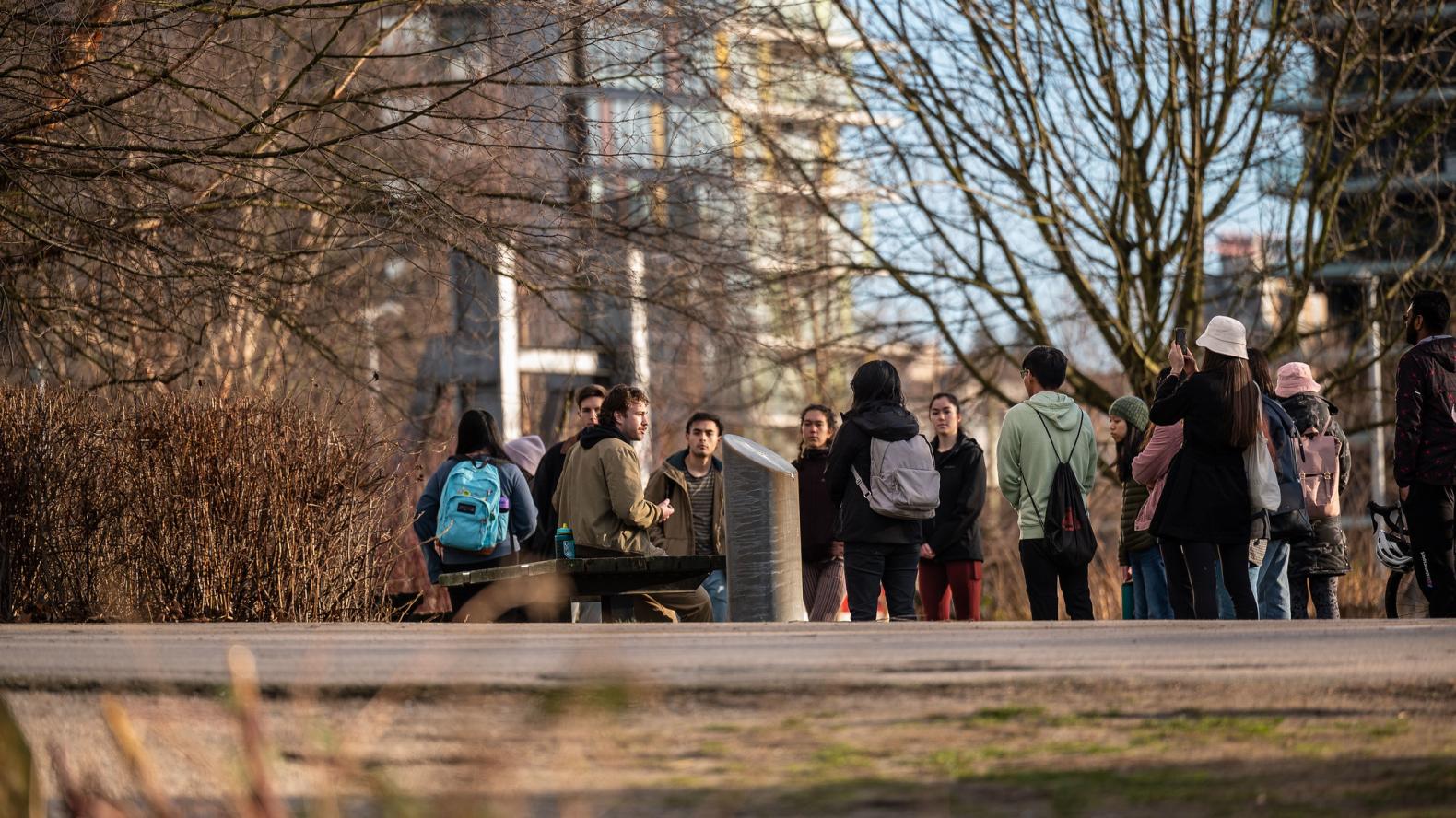 Monday, September 18, 2023 - 14:55
The Sustainability Hub and UBC Wellbeing extend warm congratulations to the awardees of the inaugural Climate and Wellbeing Education Grants. Born from a growing imperative, our program builds capacity on the vital connections between health, wellbeing, and the ever-pressing climate concerns.
The depth and diversity of curriculum projects from seven faculties and 11 departments across two campuses will explore and inspire action on climate, health and wellbeing connections. We look forward to seeing how these projects transform classrooms in creative and innovative ways.
In the academic year ahead, grant recipients will form a Climate and Wellbeing cohort to share insights, challenges, and pathways to expand and enrich climate education at UBC.
This funding commitment aligns with priorities in the Climate Emergency Task Force Report on 'Expanding Climate Education Opportunities and Resources for the UBC Community and Broader Public, and Supporting Community Wellbeing in the Face of the Climate Crisis.'
"Imagine a world where climate education is seamlessly integrated into every discipline. The IPCC's reports stress that this isn't just an option; we need to increase all types of climate education to adapt, mitigate risks, improve human and ecosystem health and end climate injustice. The Climate and Wellbeing Education grants are helping UBC move towards this goal. From planetary health to engineering to children's literature, the grants are all about creating a future where knowledge empowers action both for the planet and the well-being of us all." Linda Nowlan, Senior Director, Sustainability Hub.
"From forest fires to food insecurity, to community displacement, climate change adversely impacts our health and wellbeing in so many ways, both on and off our campuses. These projects showcase the innovation and skills UBC can harness to support classroom conversations about the climate emergency and ways to advance human and ecological wellbeing." Matt Dolf, Director, Office of Wellbeing Strategy.
Topics supported this year
Politics
Global Pandemics
Nutrition and Wellbeing
Urban Forestry
Planetary Health
Children's Literature
Natural Resources Conservation
Justice
Environmental Engineering
Education
Faculty of Arts (UBC Vancouver)
Introducing the Study of Politics through the Politics of Climate Change
Lead applicant: Dr. Bruce Baum – Political Science
Interactions between Pandemics and Climate Change: Incorporating New Content and Teaching Strategies in SOCI 290 "Global Pandemics"
Lead applicant: Dr. Katherine Lyon – Sociology
Tackling Climate Action through Children's Literature.
Lead applicant: Dr. Tanya Kyi – Creative Writing
Building Connective Tissue of Care In the Classroom: Reimagining GEOG 302.
Lead applicant: Avi Lewis – Geography

Faculty of Forestry (UBC Vancouver)
Revising an Introductory Urban Forestry Course to Incorporate Climate Change and Wellbeing
Lead applicant: Dr. Andrew Almas – Forest Resources Management
Enriching Climate Change Curriculum for CONS 127 (Observing the Earth from Space).
Lead applicant: Dr. Christopher Colton – Forest Resources Management

School of Health and Exercise Science (UBC Okanagan)
Creating Synergy in Teaching and Learning; Linking Climate Action with Nutrition and Wellbeing.
Lead applicant: Dr. Sally Stewart – Health and Exercise Sciences

Faculty of Medicine (UBC Vancouver)
Integrating Planetary Health and Wellbeing through a Constructivist Approach.
Lead applicant: Dr. Adrian Yee – Medicine

Faculty of Pharmaceutical Sciences (UBC Vancouver)
Integrating Planetary Health into Pharmacy Education.
Lead applicant: Dr. Robert Pammett – Pharmaceutical Sciences

Faculty of Education
Kin(esiology) in Climate: Health Stories from Our Shared City.
Lead applicant: Dr. Liv Yoon – Kinesiology
Revising EDST 503 for use in MEd in Education for Sustainability, Regeneration and Resilience.
Lead applicant: Kari Grain – Educational Studies

Faculty of Applied Science (UBC Vancouver)
Strengthening Climate Change Concepts, Tools and Critical Thinking in Core Courses of the Emerging Environmental Engineering (ENVL) Program. Lead applicant: Zeina Baalbaki – Civil Engineering
"Imagine a world where climate education is seamlessly integrated into every discipline." Linda Nowlan.