The Sustainability Hub joined kQwa'st'not (Charlene George), artist, cultural guide with Sierra Club BC and member of the tSouk Nation, for a walk in the forest. Words by Katie Eadon-Clark.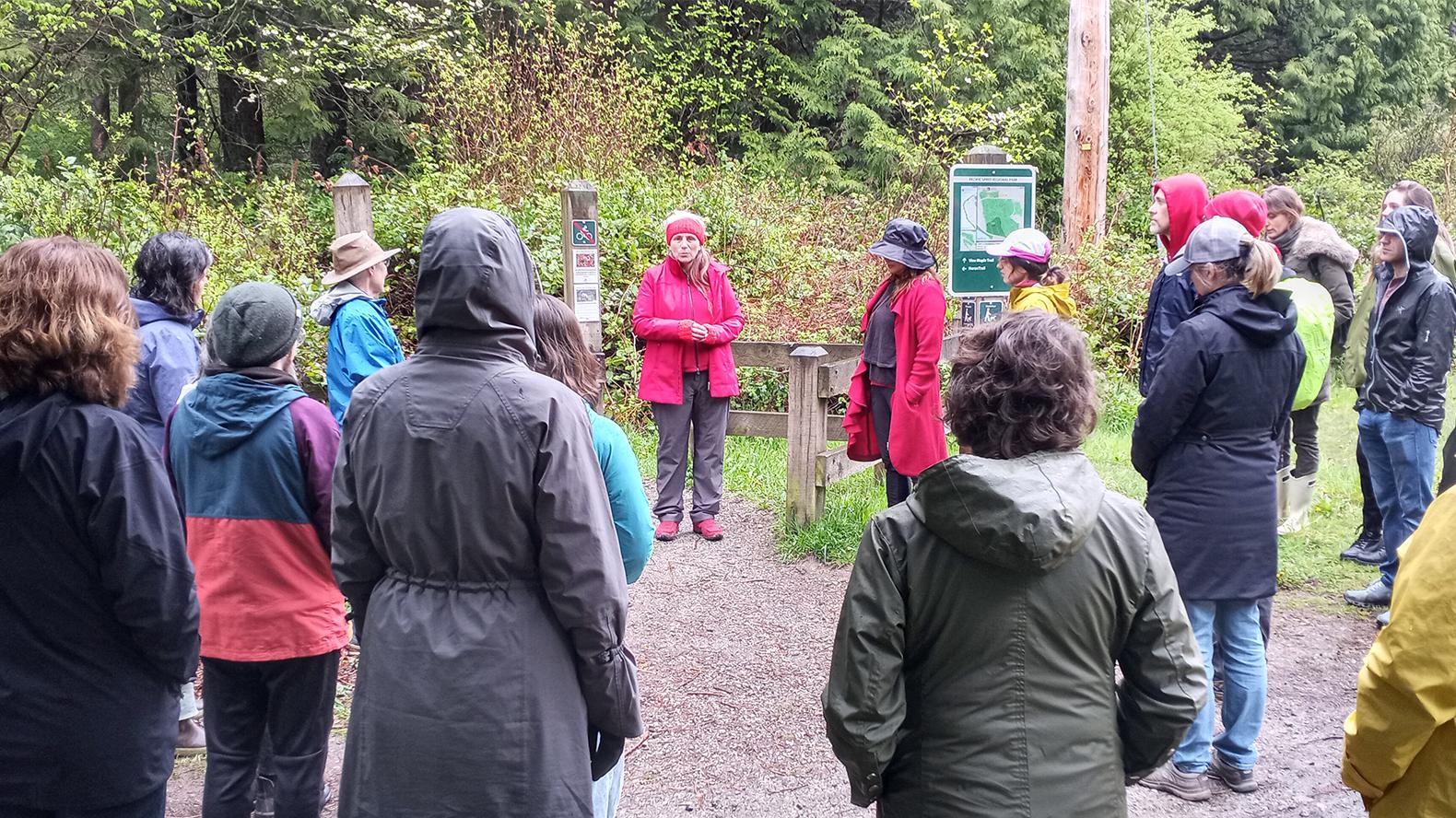 Tuesday, May 10, 2022 - 14:45
On May 5, the Sustainability Hub joined kQwa'st'not (Charlene George), artist, cultural guide with Sierra Club BC and member of the tSouk Nation, for an interpretive walk in the forest. This was a great opportunity to learn about some of the beings that call the forest home, and a bridge to help us see the 'ecosystem' with fresh eyes or new glasses.
We often talk about how the heart of the climate crisis is a disrepair of our relationships with each other and our more than human neighbours. How can the forest encourage us to pause, observe, and invite a new way of being together?
Reflections from the forest
To truly reimagine our relationship with the worlds just outside our doors, we must endeavour to reimagine what we see in front of our eyes, perhaps inviting a remembered relative to share their insights into resiliency. As our human development continues to threaten the world around us/natural world, we must ask what we really want our future to be. kQwa'st'not (Charlene George), cultural guide for Siera Club BC, invited us to walk through Pacific Spirit Park, looking through the lens of her ancestors, practicing consideration and gratitude in another's home.
The walk kQwa'st'not led was slow and mindful as we stopped to not only look at the flowers, but taste and feel them. She showed us various plants Indigenous peoples use, sharing their story and cultural significance. We were encouraged to look beyond the physical attributes of what was around us and instead consider its essence and the lessons we could learn. Like how we pass through mud, whether we gingerly avoid it or move on through, can be seen as a metaphor as how we deal with problems. kQwa'st'not asked us to open our minds to Indigenous ways of thinking and said that our path to a sustainable future is through being able to balance the values from cultures all over the world.
Art as action
There are various approaches to address the climate crisis and kQwa'st'not, in conversation with Outdoor Artist in Residence Holly Schimdt, shared how art is a form of activism that spreads a message of sustainability and a vision for a just, healthier future.
Holly presented Vegetal Encounters, a multi-year residency at the Belkin working with people of all ages to not just create art but also to discover it. Rather than creating art with an end goal in mind, she tried an open-ended approach where art would be a conversation, working together with the medium and listening for new ideas. This approach is further seen in Holly's Fireweeds Fields, which transforms the Belkin's lawns into a fireweed meadow, encouraging greater biodiversity. Fireweed Fields presents a piece that encourages open communication and insists that we have to work with each other and the environment to address the climate crisis.
kQwa'st'not presented Seeing Through Watcher's Eyes - Between Two Worlds, which reiterated messages from the morning's forest walk through art. The online presentation centres artwork from a mural, sharing the story of the land where the mural lives. The work emphasizes that climate action starts from a discussion of values and priorities where it is important that all voices are heard so we can look towards a climate just future together.
---
kQwa'st'not~Charlene George is a band member of the tSouk nation, a cultural guide for Sierra Club BC, active in her local cultural community and has recently completed her MA. As part of completing her master's Seeing Through Watcher's Eyes was given 'life.'
kQwa'st'not observes that change or transformation is not easy or comfortable for most. However, this work is imperative to our collective ability to survive and thrive. After all, we are all in one canoe and together we will journey well or capsize. She notes that NONU WEL,WEL TI,Á NE TȺ,EȻEȽ — our canoe is really tippy as we try to journey together, so we must strive to better balance our relationship with each other, Western and Indigenous knowledge systems, and ways of knowing. This is a process that can be difficult and requires hard work, an open mind, humility and willingness to change.

---
Presented in partnership between Sustainability Hub, Sierra Club of BC, Centre for Law and the Environment, and the Morris and Helen Belkin Art Gallery.