Canada's tallest mass timber building, the 18-storey Brock Commons Tallwood at UBC, is a draw for visitors worldwide. The popular student residence, with stunning ocean and mountain views, has an innovative hybrid structure composed of concrete, steel and mass timber: cross laminated timber (CLT) floor panels and glue laminated timber columns. 
Thursday, June 30, 2022 - 15:36
On June 29th, 2022, a government delegation from Ireland toured the building with UBC leadership including Linda Nowlan, Senior Director, Sustainability Hub, Angelique Pilon, Director of Urban Innovation Research, and David Kiloh, Director of Facilities and Building Services for UBC Student Housing.
The Minister visited UBC to learn about teaching and research related to mass timber and sustainable construction, and specifically requested a tour of Brock Commons. Like Canada, Ireland is wrestling with both the climate crisis and a housing crisis – with mass timber under consideration as part of the solution to both issues.
The delegation was interested to learn about the many benefits of mass timber, including the reduction in carbon emissions and ease of construction. Mass timber has lower embodied carbon than other structural materials, specifically with fewer greenhouse gas emissions associated with the manufacturing, transportation, installation, maintenance, and disposal of material.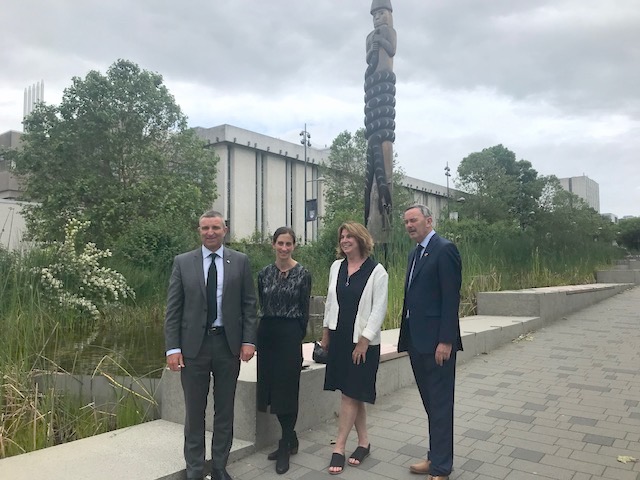 Pictured above, the Irish Minister of State for Skills and Further Education, Niall Collins, and the Irish Consul General in Vancouver, Frank Flood.
Additionally, mass timber lends itself to prefabrication, which can simplify and expedite the construction process – an important consideration for increasing housing development. For example, the Brock Commons' superstructure and envelope were erected in a record 9 weeks using prefabricated panels with only 10-12 construction personnel on site. Cost is always a factor, and the Irish government representatives were pleased to learn that relative to steel and concrete, mass timber construction costs are declining as more building industry professionals gain experience with the material, and more manufacturing facilities open up.
Through an intensive research program and knowledge dissemination program led by the Urban Innovation Research team in the Sustainability Hub alongside researchers in Civil Engineering and Forestry, Brock Commons spurred change in building policy and practice. It was a precedent to changing national, provincial and municipal building codes across Canada, and encouraged other developers to use mass timber in their building projects.
After two years of limited travel, tours of this ground-breaking building are in demand again, with government delegation visits from places like California and Japan eager to learn more about sustainable buildings in British Columbia.
Learn more about mass timber construction at the Sustainability Hub's Brock Commons Tallwood House curated research collection.