A collaborative effort to make UBC a better place to live, work and learn through an interconnected approach to wellbeing across our campuses. Guided by the Okanagan Charter, our work is focused on six priority areas: Collaborative Leadership, Mental Health & Resilience, Food & Nutrition, Social Connection, Built & Natural Environments and Physical Activity.
27
WELLBEING PROJECTS SUPPORTED THROUGH STRATEGIC INITIATIVES FUND
10
YEARS OF THRIVE WEEK SUPPORTING MENTAL HEALTH AT UBC
6
SEEDS RESEARCH PROJECTS EXPLORED FOOD INSECURITY AMONG STUDENTS
57%
OF STUDENT RESPONDENTS MORE LIKELY TO CHOOSE TAP WATER FOLLOWING CAMPAIGN
KEY ACHIEVEMENTS
UBC Vancouver
UBC Wellbeing strategic initiatives fund | To promote collaborative work in priority areas, last year UBC Wellbeing offered strategic funds to units.
Funded projects included a Musqueum multi-sport program for kids led by UBC Kinesiology's Active Kids; a Community Kitchen at the UBC Farm; the Artivism Festival, coordinated by the Arts and Culture District, and a Harvesting Food Skills Workshop at the UBC Botanical Garden to engage AMS Foodbank clients in developing food and nutrition skills related to growing, harvesting, preparing and sharing foods, and supporting biodiversity.
UBC Drinks Tap Water | As part of the Healthy Beverage Initiative at UBC, the Food and Nutrition Committee teamed up with Student Housing and Hospitality Services to roll out "UBC Drinks Tap Water" across both campuses. The campaign aimed to educate community members about the benefits of drinking tap water, and dispel misconceptions that bottled beverages are better.
Wellbeing in learning environments | A three-year research project, funded by the Teaching Learning Enhancement Fund is exploring strategies that promote academic tenacity and students' ability to thrive in rigorous academic environments. Now in year two, this project saw faculty members from multiple disciplines at UBC Vancouver implement and assess approaches to support student wellbeing in the classroom.
UBC Okanagan
Addressing food security on campus | At UBC Okanagan, the VOICE 4 research project found that 42% of students were sometimes or often worried that food would run out before they got money to buy more. To address this, the Food Insecurity Baseline and Action Plan Project is working on food insecurity reduction targets, advocacy, and program activities.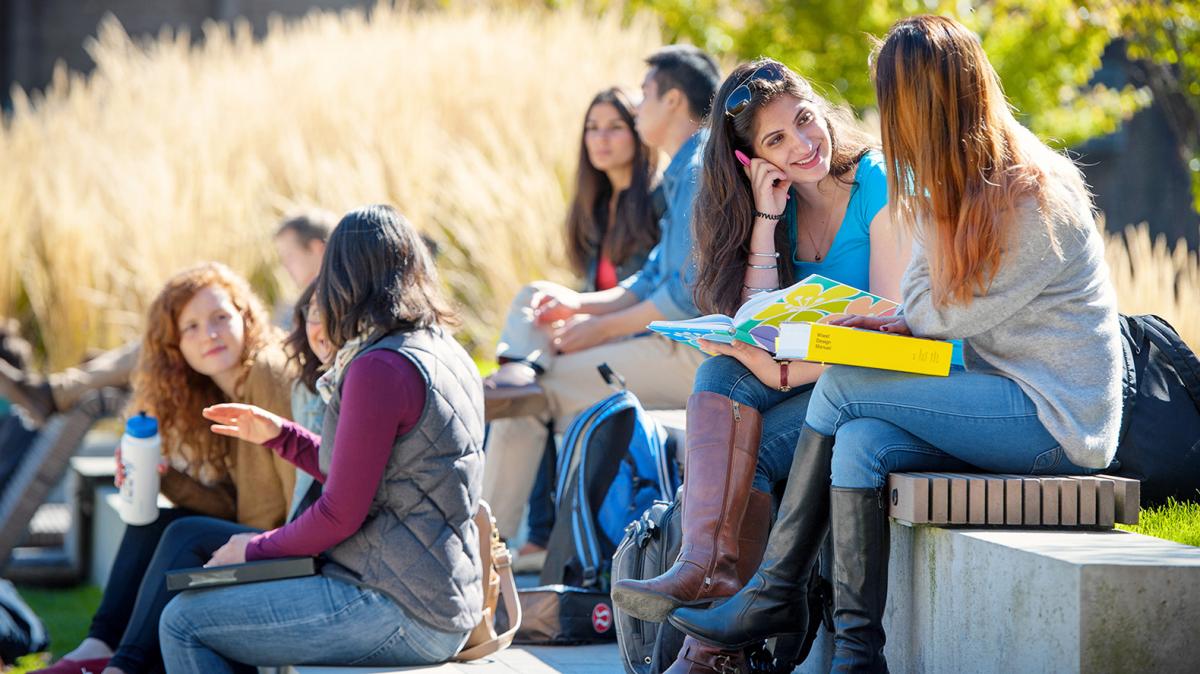 Growth mindset, self-regulation, and social connection
A student's wellbeing is critical to their academic success. So UBC faculty are exploring ways to increase academic tenacity and support student wellbeing through a three-year research project funded by the Teaching and Learning Enhancement Fund.
Academic tenacity is comprised of three components: growth mindset, self-regulation, and social connection. Students in Dr. Karen Smith's first-year Biology class are encouraged to take part in activities outside the classroom; in doing so, they build stronger connections to the campus community and successfully develop self-regulation learning strategies.
In the Faculty of Applied Science, Dr. Agnes D'Entremont's second-year mechanical engineering cohort is learning how to effectively handle stress through mental health literacy embedded into their course curriculum.
And in the Faculty of Education, Dr. Carolyn McEwan teaches a Kinesiology statistics course where self-compassion strategies are taught to help students with emotional regulation.
Supported by the Health Promotion and Education unit, the final year goal is to integrate practices and strategies to support student wellbeing across the university.