Efficient water use, greater resilience in the face of increasing drought periods, and effective management of heavy rainfall events are important goals at UBC. Multiple departments are collaborating to address these issues through development of new and better tools for metering and analyzing consumption, improving the efficiency of buildings and infrastructure, and engagement programs.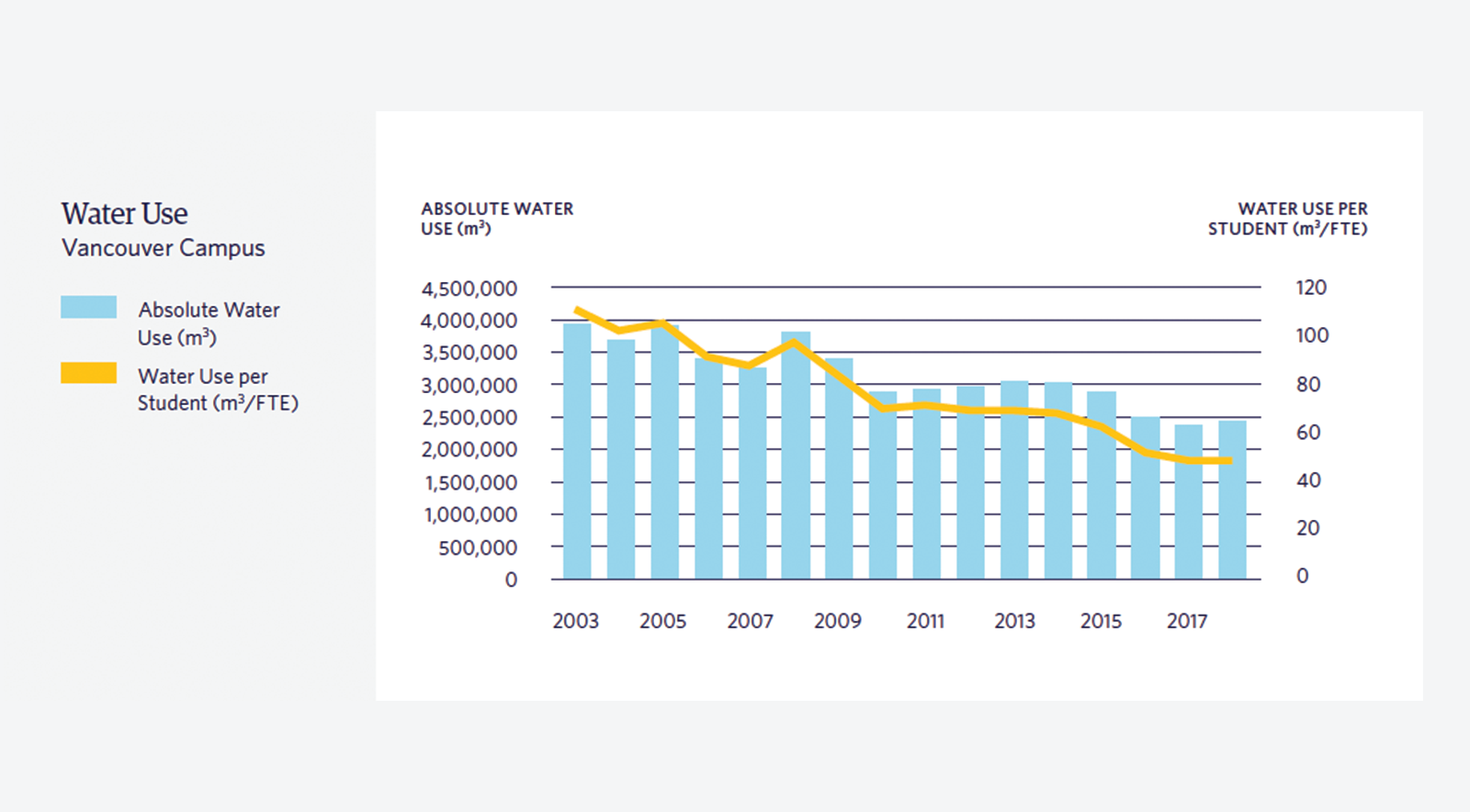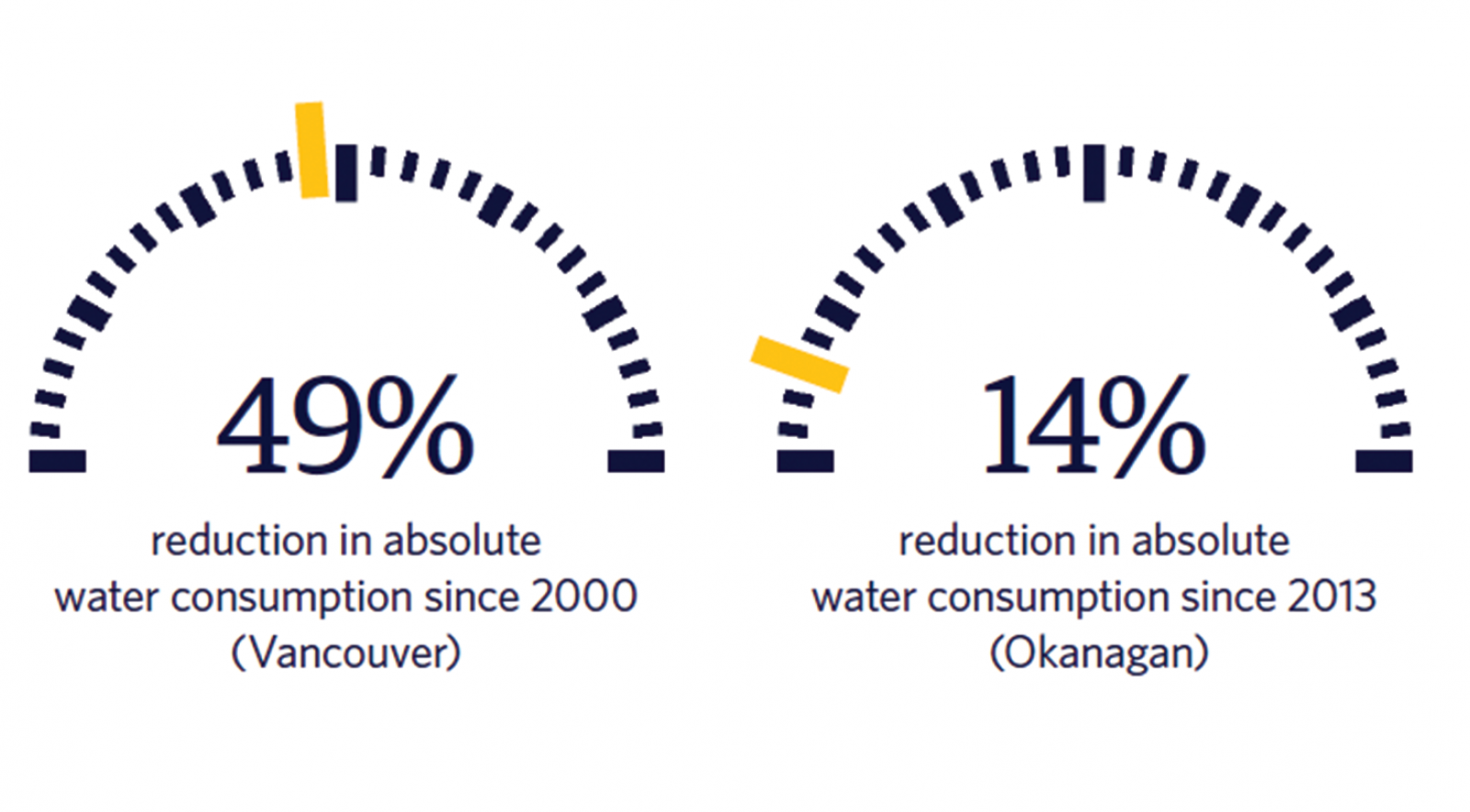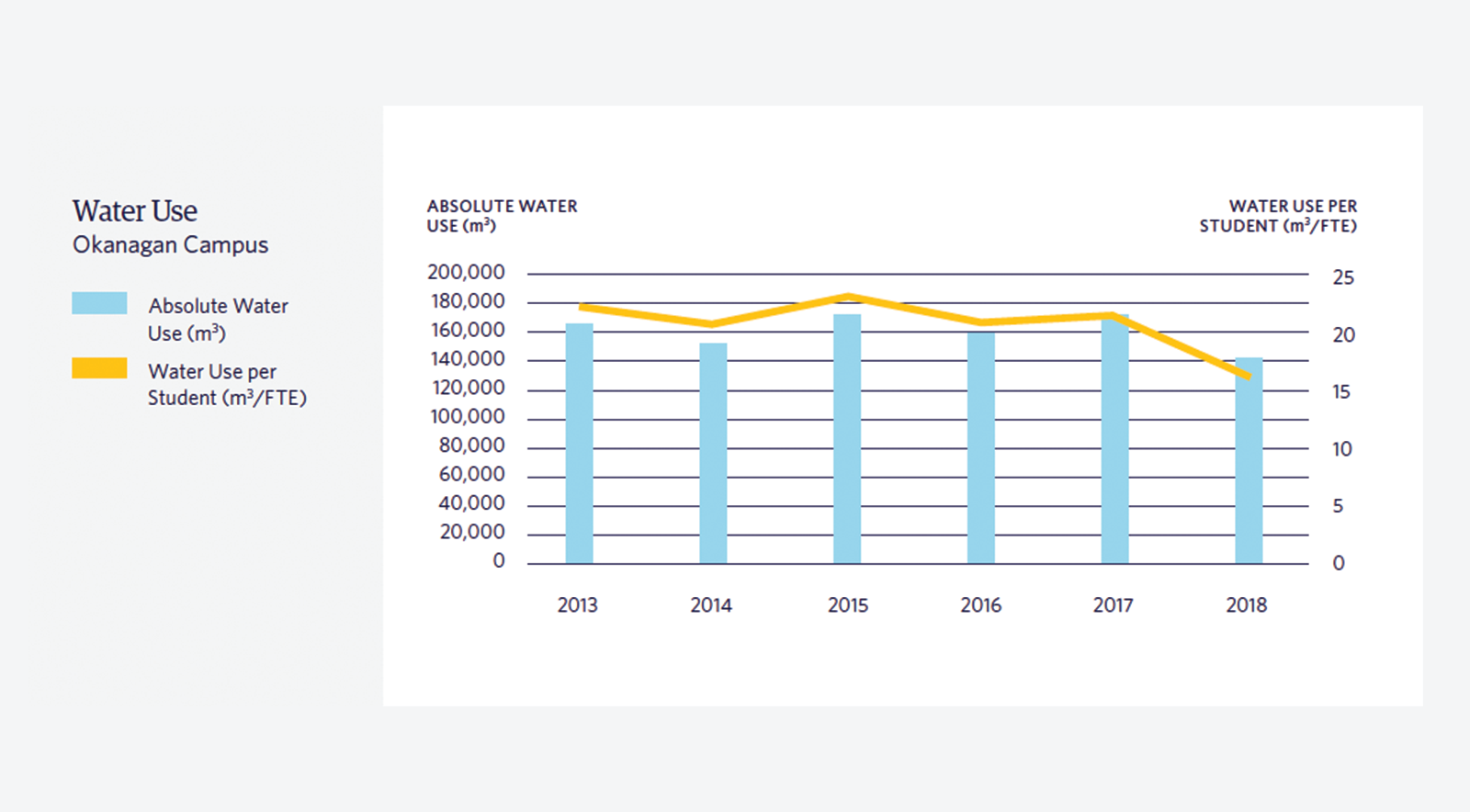 68%
REDUCTION IN WATER USE INTENSITY PER STUDENT SINCE 2000 (VANCOUVER)
27%
REDUCTION IN WATER USE INTENSITY PER STUDENT SINCE 2013 (OKANAGAN)
KEY ACHIEVEMENTS
UBC VANCOUVER
Water Action Plan approved and underway | Our new plan targets a reduction in water use per student FTE of 2% per year. Action areas include metering and reporting, landscape and irrigation, alternative water sources, drinking water, and campus engagement. This year SEEDS student research projects analysed campus water metering data, piloted wayfinding signage for water fountains, and evaluated new locations for water fountains.
District Energy System water efficiency improved UBC's new hot water Academic District Energy System (ADES) uses 2000 times less water than the steam system it replaced. The hot water system is closed loop with a leak detection system to prevent water loss, and closures to the outstanding legacy sections of the steam system will enable further energy and water savings in the future.
Stormwater management plan reviewed | This year a new storm model was generated by Metro Vancouver to support adaptation to climate change within the region's sewerage and drainage infrastructure. UBC reviewed this model and will incorporate findings into the design of future stormwater management systems. In addition, 16 SEEDS research projects explored ideas for building community and ecological resilience via thoughtful stormwater management.
UBC OKANAGAN
Reduced irrigation, drought tolerant landscaping In alignment with UBC Okanagan's updated Design Guidelines, the campus continued to incorporate indigenous and drought tolerant plants in landscaping across campus. This reduced irrigation requirements and strengthened local ecology and biodiversity. Additional measures implemented to reduce water consumption included irrigation system upgrades for improved scheduling control, and sustainable landscape practices – such as the incorporation of leaf mulch in soils.
New terraced raingardens, bioswales | Our Integrated Rainwater Management Plan (IRMP) includes the application of Low Impact Development (LID) facilities such as raingardens and bioswales that achieve rainwater management with ecological and social co-benefits. New LID applications across campus, including bioswales and a terraced raingarden adjacent to the Commons library, were designed to achieve the IRMP's minimum retention requirements while providing a valuable social amenity.