UBC's Zero Waste Action Plan targets 80 percent overall waste diversion by 2020, and both campuses are striving towards full waste recovery and reuse by 2050. Doing so will require innovation and strategic partnerships, plus the commitment of the whole campus community through campus engagement, behaviour change programs, and awareness building activities.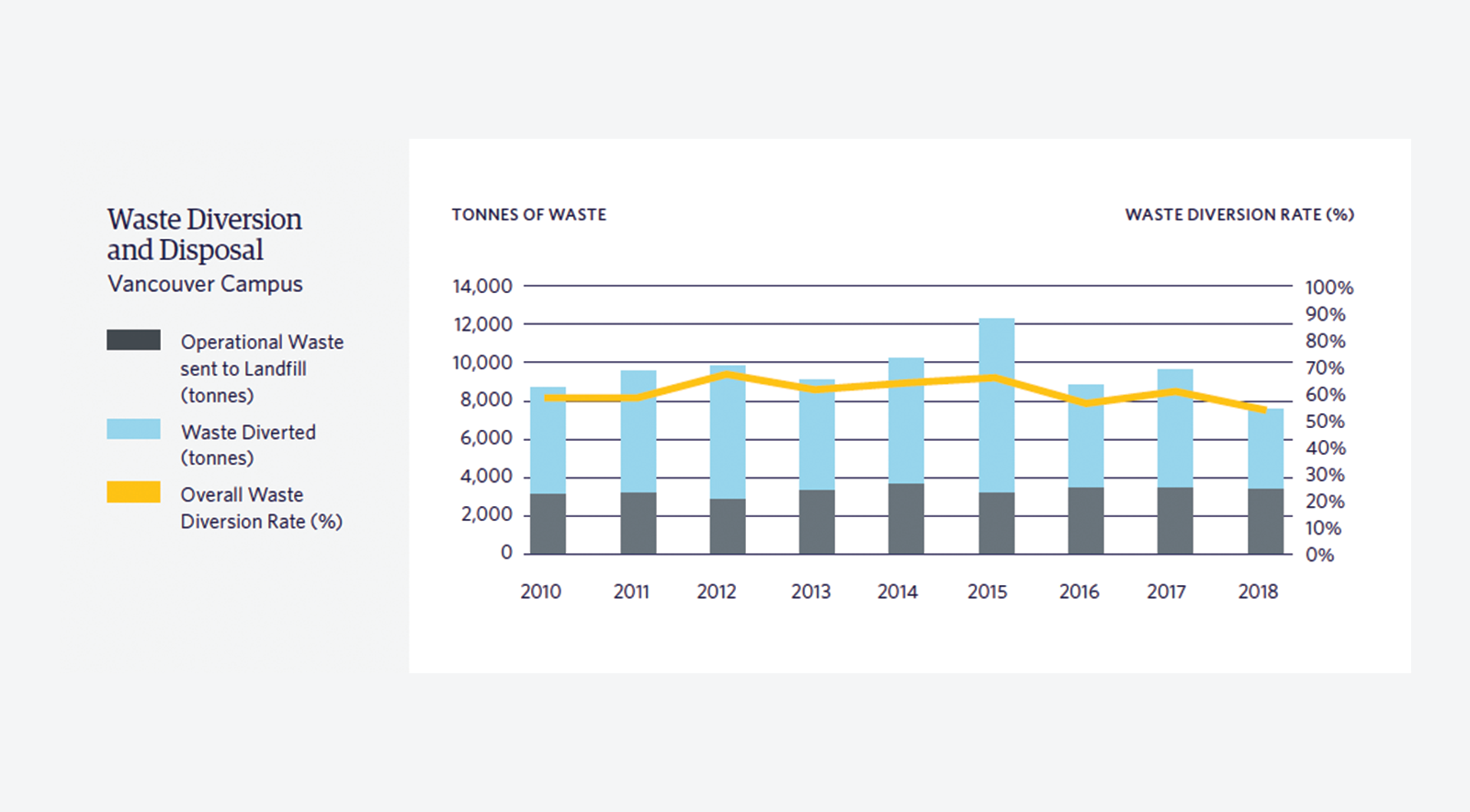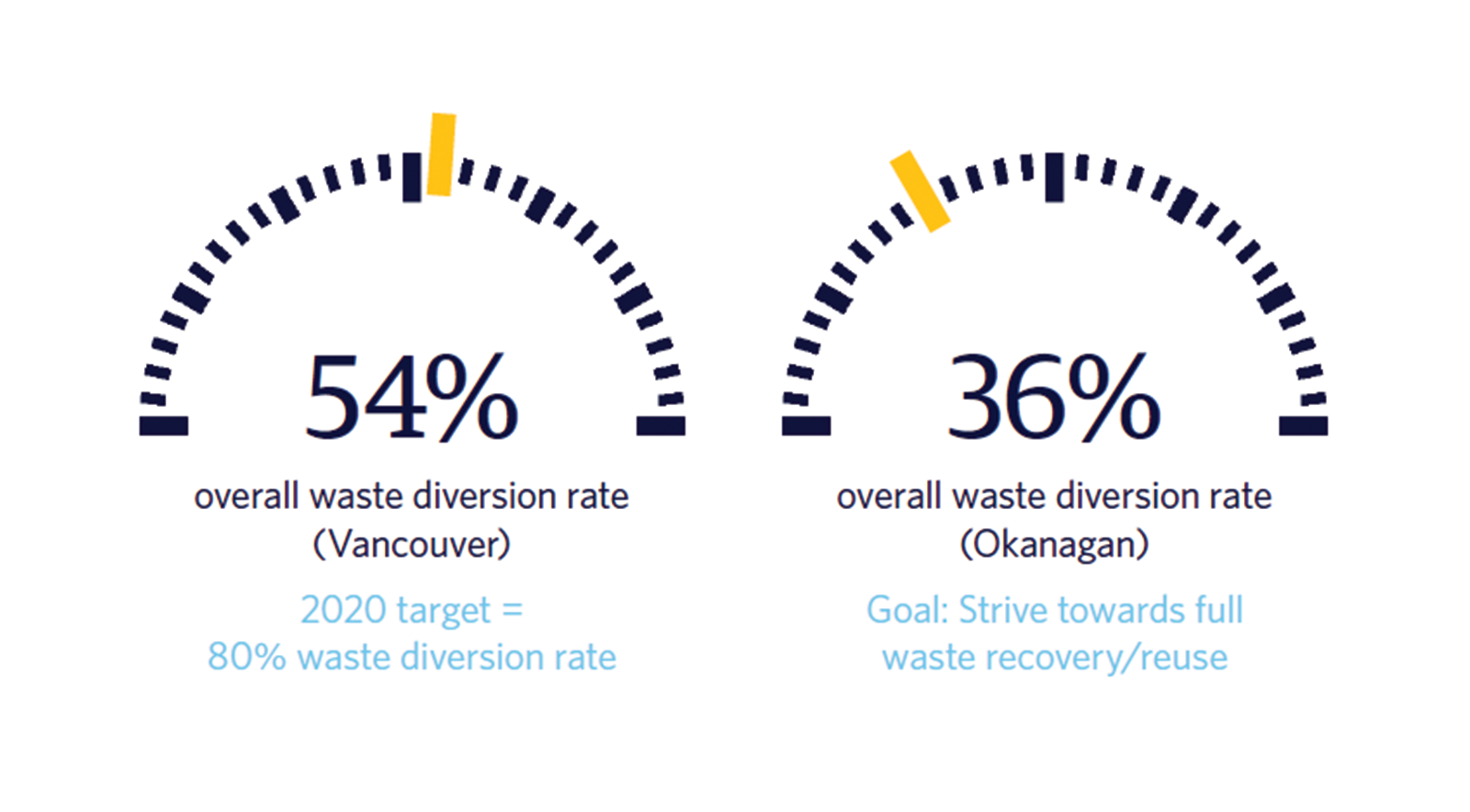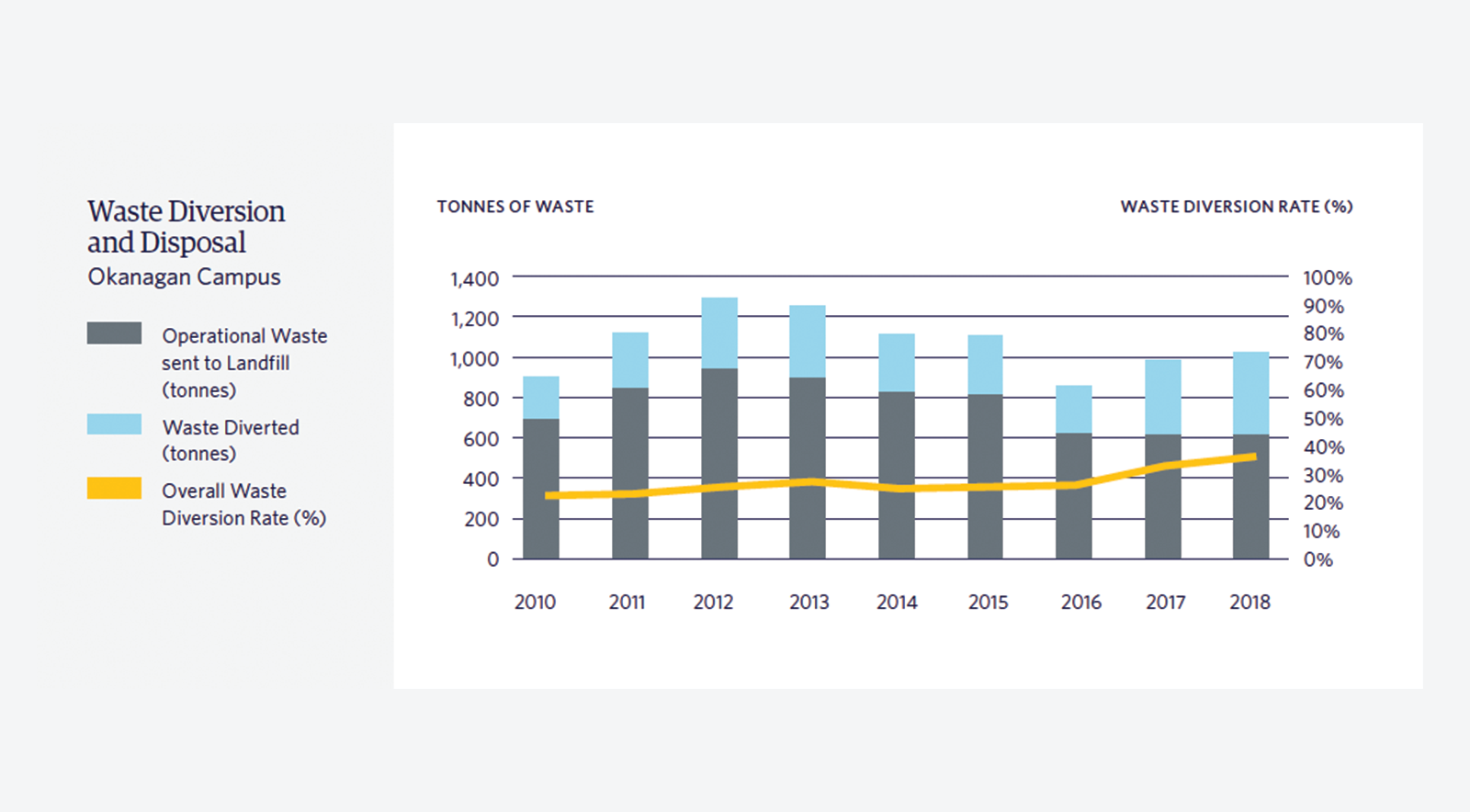 40,000+
FEWER COFFEE CUPS USED FOLLOWING 25¢ FEE (VANCOUVER)
14%
INCREASE IN WASTE DIVERSION RATE SINCE 2010 (OKANAGAN)
KEY ACHIEVEMENTS
UBC VANCOUVER
Zero Waste Food Ware Strategy | UBC Vancouver generated approximately 1.7 million disposable coffee cups last year, along with other single use food ware items such as plastic straws and cutlery. In consultation with food services stakeholders and the City of Vancouver, UBC has drafted a Zero Waste Food Ware Strategy, informed by SEEDS research spanning multiple disciplines, to explore reducing single use items, increasing composting and recycling rates, and decreasing compost contamination.
Student-led Mugshare program launches on campus After two years of development, UBC's student-led Refill Initiative team launched Mugshare. This innovative program allows customers to check out reusable mugs from many cafes on campus and return them when they're done. Mugshare is currently spreading beyond campus into outlets across Vancouver and Whistler.
Reuse pilot launched in student residences | A pilot to enhance donation sorting and reuse of items was conducted in Walter Gage residence. Students from the Zero Waste Squad helped identify items suitable for reuse and resale from the donation room. Overall, 50 boxes of items were collected and resold to incoming students, reducing landfill waste and promoting a circular economy.
New outdoor recycling stations | This year we began installing new outdoor recycling stations. These multi-stream stations allow users to separate recycling and composting, and their extra-large capacity reduces collection truck trips.
UBC OKANAGAN
Waste reduction engagement program | Awareness and education programs held last year were designed to address low cost, high impact opportunities identified by campus waste audits. Key behavior change campaigns focused on eliminating or recycling paper cups, lab waste diversion, and improving recycling compliance. As a result, our fifth Bi-Annual Waste Audit demonstrated a 13 percent improvement in recycling compliance compared to 2016.
Recycling station upgrade | Recycling stations across campus were updated last year to improve sorting behaviours and recycling compliance. Content and visual updates to recycling signage were also made to improve clarity, and to ensure consistency for end users across campus.
PaperCutTM reduces paper waste | UBC Okanagan introduced PaperCutTM, a user-driven, online based printing program in 2016. The program is targeted to reduce paper use, associated GHG emissions, and printing costs. Since 2017, the program has achieved a 63 per cent reduction in paper use.