An immersive leadership experience for students interested in personal, collaborative, and community engaged learning. Designed to develop and strengthen key leadership and systems thinking skills, the program encourages students to make meaningful and informed life and career choices while designing projects that foster human wellbeing and sustainability.
16
AMBASSADORS PLANNED SIX UNIQUE ENGAGEMENT PROJECTS
1,700
ATTENDEES AT AMBASSADOR-LED EVENTS
$11,000+
RAISED BY AMBASSADORS TO SUPPORT SUSTAINABILITY PROJECTS
100%
OF AMBASSADORS REPORT GAINING TRANSFERABLE SKILLS AND EXPERIENCE
KEY ACHIEVEMENTS
Public engagement events brought the campus together
This year the Sustainability Ambassadors developed programming and outreach to support a number of key engagement events across campus.
Some highlights included:
Sustainability Storytelling Night | Five talented storytellers shared successes, challenges, and what they learned from promoting sustainability throughout the campus community. Attended by over 150 people, the event included students, community members, faculty and staff.
The UBC Sustainability Fair | The fair helped raise awareness of sustainability initiatives related to social and economic wellbeing, equity and education, and environmental protection. Over 34 organizations participated, supported by seven off-campus sponsors.
Sustainability Career Connections | Drawing on the five P's (People, Planet, Prosperity, Partnership, and Peace) of the Sustainable Development Goals (SDGs), this event featured discussions between six panelists and over 100 students on how to align their careers with advancing the SDGs.
Ambassadors offer sustainability consultancy to UBC student groups
Sustainability Ambassadors advise other UBC student clubs and groups on planning specific events, integrating sustainable practices, and bringing attention to resources. This year the Ambassadors reached out to six student groups including the Singapore Students' Association and the Seri Malaysia Club to reduce single-use plastic use at their events by using compostable cutlery and bring-your-own mugs and plates.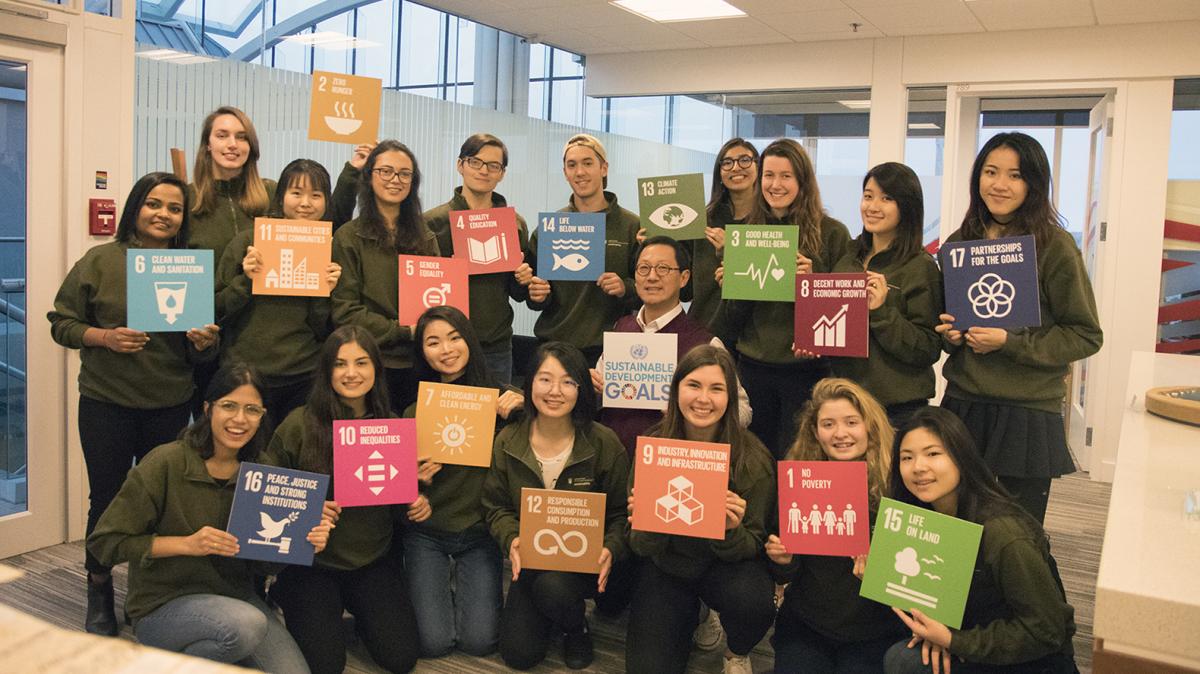 First student-led Sustainable Development Goals Roundtable
Besides boosting student awareness of the Sustainable Development Goals (SDGs), the aim of the SDG Roundtable was to facilitate increased collaboration between a diverse group of UBC student organizations. Through active discussion and listening, the Roundtable demonstrated how a sustainability lens can highlight the common vision and purpose between student groups with very different goals.
The event attracted over 40 student-led organizations and groups, and has motivated the Ambassadors team to develop a new Student Directed Seminar on the SDGs.
"I discovered that the way to achieve or work on the SDGs does not necessarily have to be on a governmental or institutional level; that it can be achieved through other personal and group actions." (SDG Roundtable Participant)
"The relative freedom we have over our own projects and its structure was liberating, as I felt a sense of agency in fulfilling the Ambassadors' vision and mission." (Sustainability Ambassador)