Did you know that Ultra-Low Temperature (ULT) Freezers operating at -80°C use enough energy to power a single family home? Increase the temperature from -80°C to -70°C and reduce energy use by up to 42%.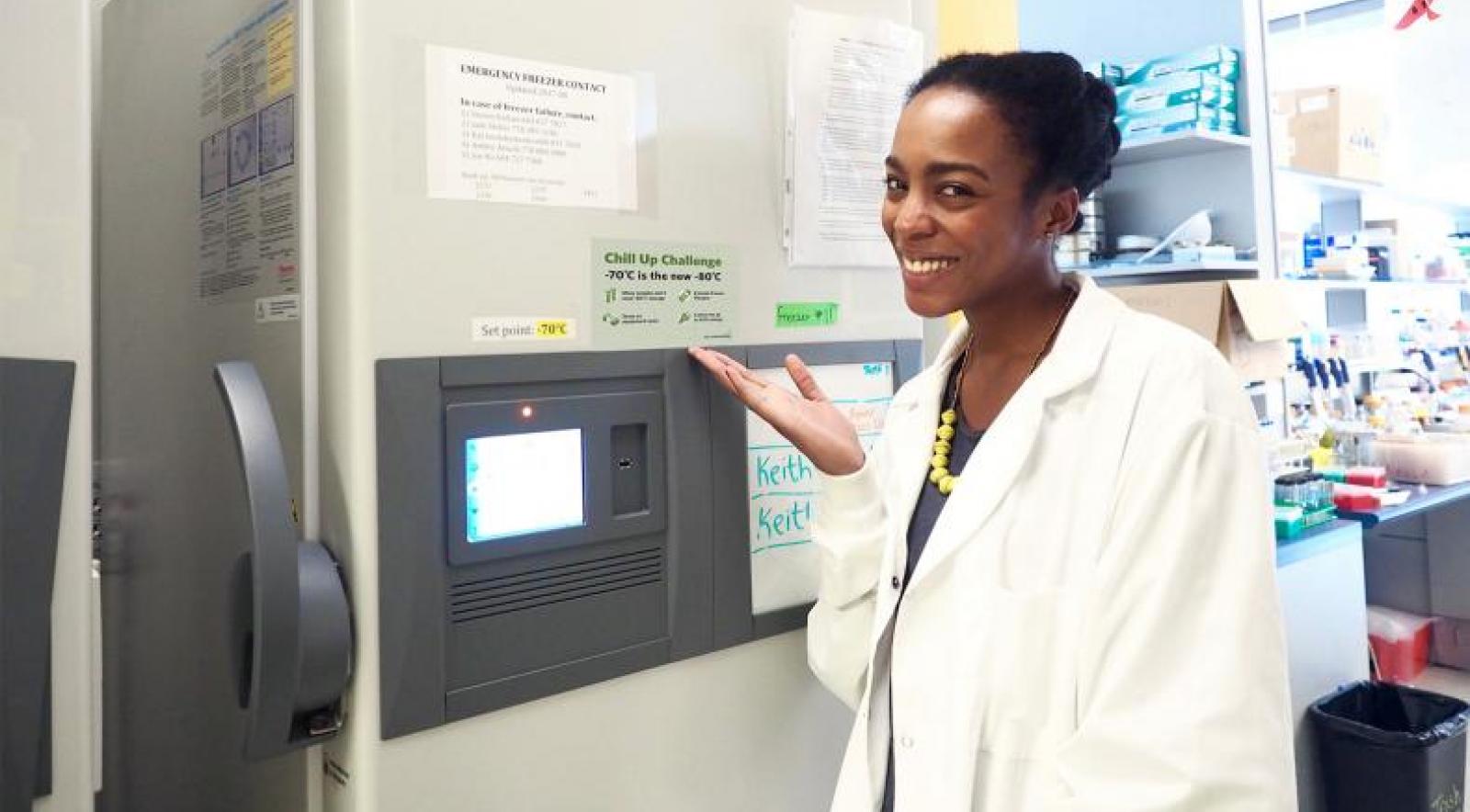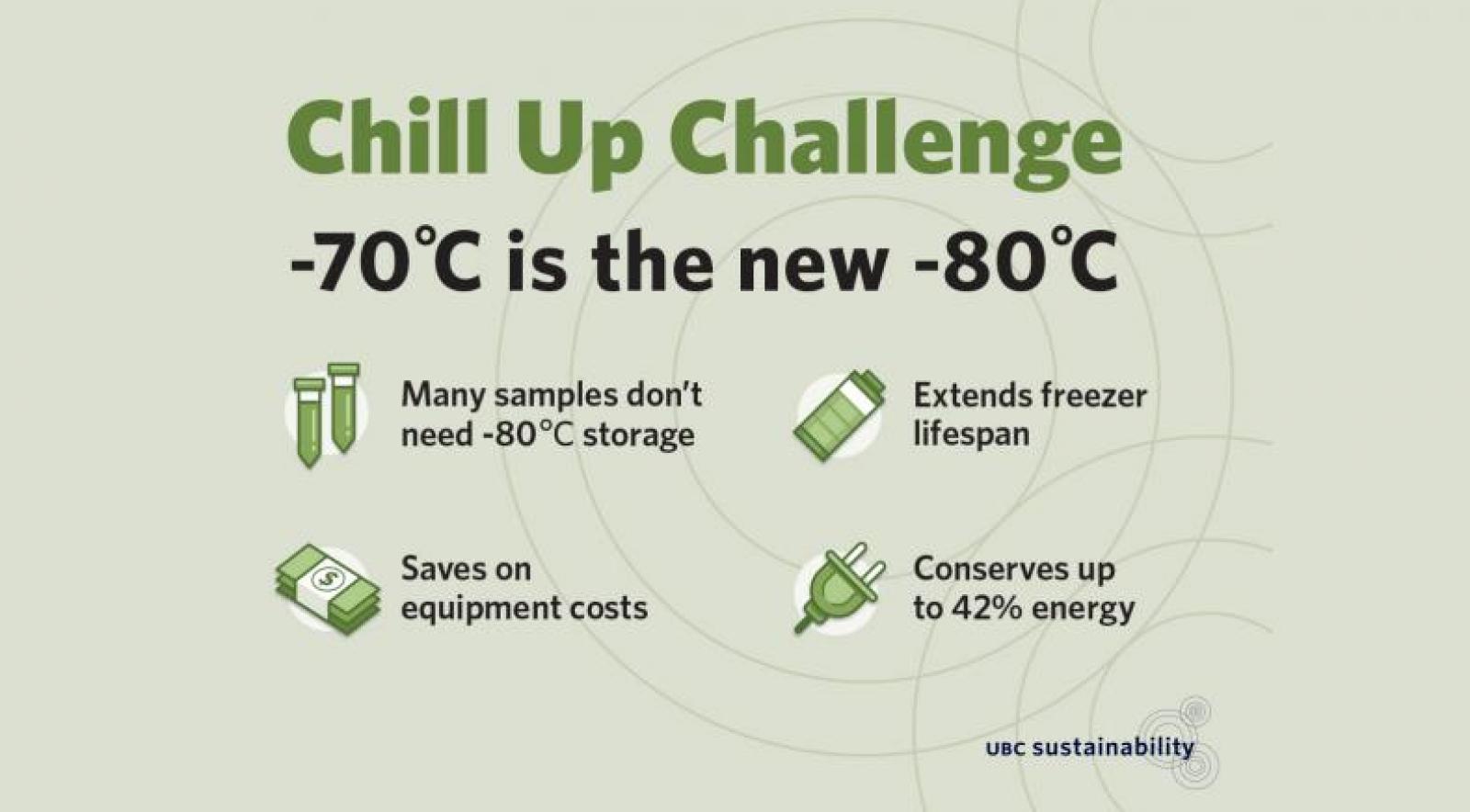 OVERVIEW
Ultra-Low Temperature freezers (ULTs) preserve millions of precious samples at UBC but are expensive, energy intensive, and require vigilant oversight. To tackle this, UBC researchers are joining others across North America in the Chill Up movement.
By raising the set point temperature of your ULT freezer from -80°C to -70°C, you increase its lifespan, save on equipment costs, and reduce its energy consumption by up to 42%. Over 60% Michael Smith Laboratory and 40% of Life Sciences Center ULTs have been set to-70°C. Talk to your lab about adjusting your freezer set point from -80°C to -70°C.
Jade Shiller of the Hallam Lab explains, "By chilling up our freezers, we not only reduce our carbon footprint, but we also prolong the life of our freezers. That means fewer midnight freezer emergencies, and that is a huge relief!".
Want to see the data, or find out what samples researchers are safely storing at -70°C?
Read about how UBC researchers have turned up their freezers to bring their energy use down. By taking part in the Chill Up Challenge, laboratories across the university have improved freezer performance and longevity and saved greenhouse gas emissions and energy costs.
PREVIOUS CAMPAIGNS
Pharmaceutical Sciences Chill Up Challenge
UBC's Faculty of Pharmaceutical Science took on the Chill Up Challenge in November 2022. Thanks to all participating labs, 50% of the faculty's ULT freezers are now chilled up. This is an excellent improvement, up from 19% pre-challenge. The faculty's chilled up freezers represent an estimated 30,440 kWh in annual electricity savings, or the equivalent annual electricity use of 142 standard, Energy Star-rated chest freezers.​
A big congratulations to the Colin Ross Laboratory, the lucky winning group of our 2022 challenge and a $200 cash prize for a team celebration! Excellent work by the Colin Ross Lab, and by all participating groups!
LSC Chill Up Challenge
UBC Life Science Centre (LSC), the largest research facility at UBC, took the challenge in January 2018.
40% of eligible ULT freezers are now set to -70°C. Through Chill Up, LSC is saving over 71,500 kWh of electricity per year, equivalent to the annual electricity consumed by seven and a half single family homes.
LSC Chill Up labs celebrated over ice cream with speakers from UBC Sustainability and the LSC Sustainability Leadership Team. This challenge was organized by UBC Sustainability & Engineering with help from the LSC Sustainability Leadership Team.
MSL Chill Up Challenge
UBC's Michael Smith Laboratories (MSL) was the first to take the Chill Up Challenge in March 2017.
With a participation rate of 61% MSL is now using 45,000kWh less electricity each year. This is equivalent to the energy consumed by 100 home chest freezers or four single family homes.
MSL Chill Up participants celebrated their success at a pizza party with a congratulatory speech from John Madden, Director of Sustainability & Engineering.
The MSL Chill UP Challenge was organized by Green Labs with help from Michael Smith Laboratories (shout out to Karen Reid and Dan Fayant!) and support from BC Hydro's Energy Wise program.
Questions or feedback
Ready to chill up, have questions, or want to bring the challenge to your research building? Email green.labs@ubc.ca
Already have a ULT running at -70°C or higher? Email us and we'll get an 'I'm Chilled Up' freezer sticker to you!